Well the Oscars 2020 is officially over and boy were there a lot of great moments. Plenty of amazing performances and a few unexpected wins. All in all it was a pretty eventful occasion and we want to list down some of the highlights. In fact, some of the moments are pretty meaningful, others will make you smile, and there might be one that confuses you. It confused quite a few people after all.
---
Parasite Wins At Oscars 2020
Parasite sent waves of shock and happiness through the crowd when they won category after category. In total they won FOUR trophies and made Oscar history by becoming the first ever non-English movie to win Best Picture. Additionally, it is the first ever South Korean film to win an Oscar.
Parasite is about a poor family that schemes to become employed by a rich family by infiltrating their household. The movie has captivated a wide audience globally and earned director Bong Joon-ho his first ever Oscar trophy. Don't worry if you didn't get the chance to catch it on the big screen. GSC Cinemas is doing a rerun of it at selected locations in honour of the Oscars.
Eminem Loses Himself 
Back in 2003, Eminem's 'Lose Yourself' from the movie 8 Mile won an award for best original song. However, the rapper did not attend the ceremony that year and was unable to perform.
Now 18 years later he didn't let the opportunity slip out of his hands again. Lin-Manuel Miranda introduced a song medley at the Oscars 2020 which featured a few songs from movies.
Suddenly Eminem appeared on stage and performed 'Lose Yourself' which received some mixed reactions. Many in the crowd were dancing and singing along while some looked pretty confused. In the end he still received a standing ovation. Later on he took to Twitter to thank The Academy for the chance to perform.
Billie Eilish Performs 'Yesterday'
Billie Eilish is on a huge roll this year after bagging five awards at the Grammy's this year. At the Oscars 2020 she performed a lovely and somewhat haunting version of 'Yesterday' by The Beatles.
The In Memorium portion of the Oscars pays tribute to renowned actors, filmmakers and craftsmen who passed away over the past year.
Natalie Portman's Tribute Cape
Actress Natalie Portman wowed on the red carpet in her stunning black and gold dress that is truly fit for such an occasion. However, what really caught everyone's eye was her long black cape with golden embroidery.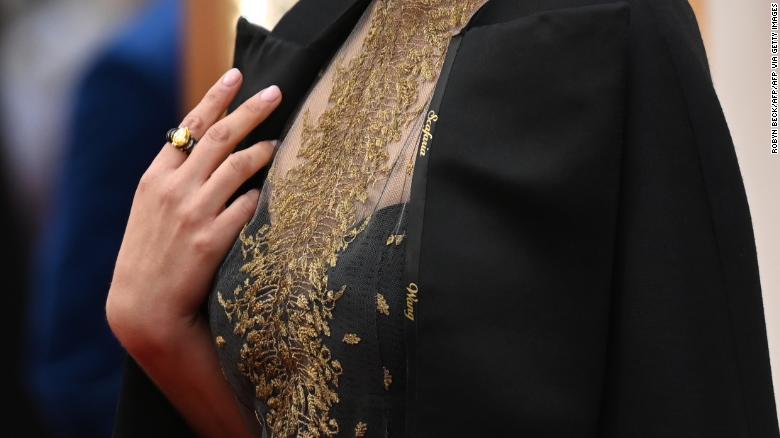 A close up look reveals that stitched on to her cape are the names of women who were overlooked for this year's directing category. Some of the names include Greta Gerwig, Lorene Scafaria, and Lulu Wang.
Moreover, this is not the first time that the Black Swan actress is calling attention to the lack of recognition for female talent. Just two years ago she introduced the 'Best Director' category with the opening line "and here are the ALL MALE nominees."