On the 24th of November at about 11:35pm a yellow Myvi fell through a sinkhole at Jalan Maharajalela. Thankfully the driver, a 42 year old woman, is safe and unhurt from the incident. However, netizens were quick to speculate where the Myvi was headed to through the hole.
---
This is a little bit of a spoiler for anyone who hasn't watched Avengers: Endgame.
Remember that scene when Dr Strange opens up the portals and all our favourite superheroes appear? Well if you noticed there were also a lot of flying vehicles coming through as well.
Now some creative netizens have concluded that the Myvi was actually headed to the MCU to fight alongside these heroes.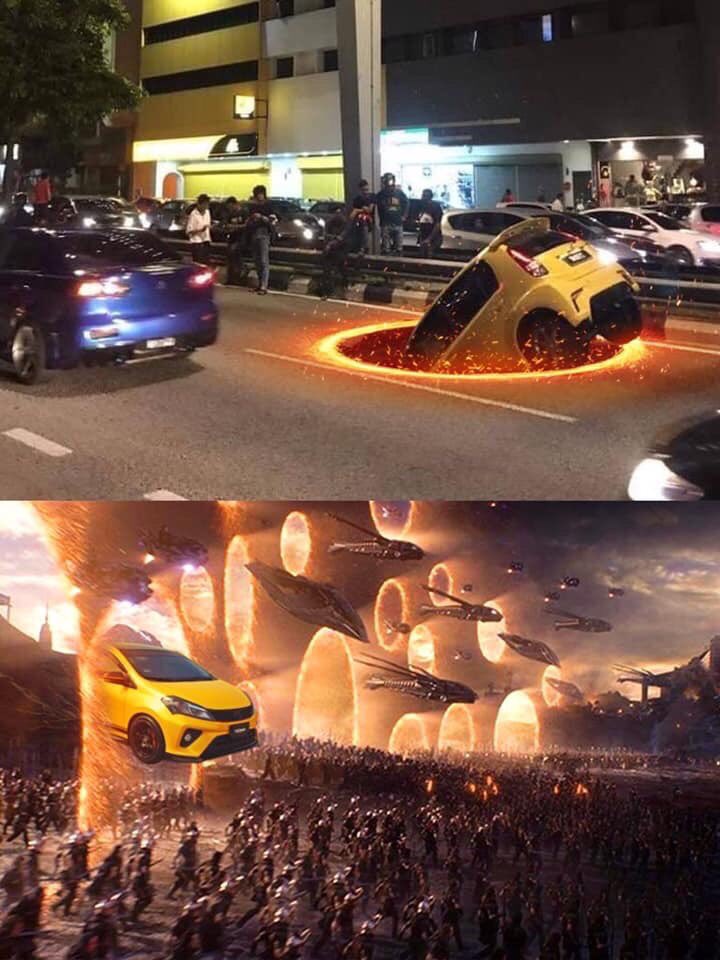 Super creative!
I'm sure most of us have seen lots of memes that involve Myvi's. For some reason, this car just seems to be a force of power. One that we can't help but acknowledge through creative memes such as these.
When it comes to a Myvi you will either love it or hate it.
All jokes aside, let's quickly talk about what a sinkhole is and why they happen.
Sinkholes in general will develop when the underground rocks and soil erode due to lots of water or rain. Therefore, the risk of a sinkhole will increase if there is heavy rainfall which is what we have been experiencing.
The danger of sinkholes is that they can appear suddenly and with little to no warning. Such as in this incident when the sinkhole appeared under the front of the car.
If you ever find yourself stuck in a sinkhole, quickly get everyone out of the car and stand a safe distance away. Stay safe on the road!