Merdeka is always a festive time in Malaysia as we celebrate our official independence day! Patriotism runs at an all time high during this period and everyone looks forward to a number of things. For some it's the parade while others eagerly wait for the signature Petronas advertisements. But as Malaysians, one thing we will all love is food! And this Merdeka you won't want to miss out on these special Merdeka inspired menus!
---
Merdeka Inspired Menus
To celebrate Merdeka, restaurants like to offer promotions on certain menu items. Others will curate new Merdeka inspired menus. These menus can offer delicious local dishes with a special twist.
Gathering together with family and friends to enjoy a lovely Merdeka meal is a great way of promoting unity. Moreover, it's such a Malaysian way to celebrate any occasion, with food! These restaurants are offering special menus in conjunction with our upcoming Merdeka day. Just a quick warning, these menus might make your mouth start watering!
Nobu
From today until the 31st of August, enjoy Nobu's 14 Flavours by Nobu Omakase which take inspiration from the 14 stripes on our Jalur Gemilang. In addition, the 14 dishes which spread over 8 courses also infuse local flavours.
With a contemporary take, you can enjoy seared scallop wasabi salsa with a dragon fruit dry miso. Nobu also puts their own spin on our classic Chilli Crab which will surely provide you a new gastronomic experience. Lastly, don't forget to end the meal with the longan kakigori which features a monk fruit sorbet.
Beta Kuala Lumpur
Beta Kuala Lumpur is offering a Tour of Malaysia menu which aims to bring dishes that meld the traditional with contemporary. Curated by Chef Raymond Tham, the Merdeka inspired menu features unique dishes.
In fact, you can expect inventive dishes such as an inverted karipap, rendang foie gras, and crab with custard and chilli crab foam. End the meal with some Musang King with Pahang single origin chocolate. In addition to the meal, you can go for the cocktails pairing which also highlight local flavours.
St. Regis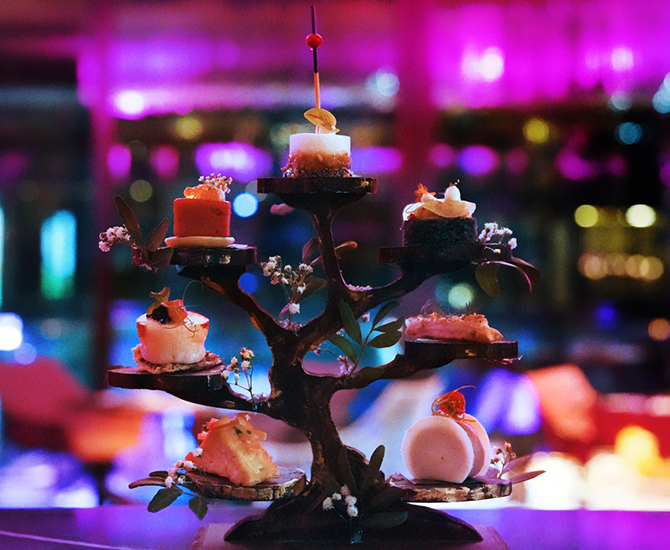 Another one from the list of Merdeka inspired menus is St. Regis' take on Merdeka and Malaysia Day. Furthermore, it is inspired by folklore with dishes that come from their popular Malaysiaku: A Reimagined Malay Heritage Menu.
On the menu you will find Malaysiaku Signature Otak-Otak, cured and pickled Chilean Seabass, and Roasted Beef with Spicy Coconut Gracy. The menu is available until the 16th of September and is also available for takeaway and delivery.
Shangri-La Hotel 
Lastly, to complete our list of Merdeka inspired menus is Shangri-La hotel and their Malaysian afternoon tea menu. The Malaysian Afternoon Tea menu is available at Lobby Lounge until the 30th of September.
Feast on delicious dishes such as Nasi Lemak Maki Roll, curry puff ayam percik, and even salmon otak-otak. Shangri-La is bringing a modern take on our local favourites. Those with a sweet tooth will be delighted to try the Musang King Mochi, sago gula Melaka panna cotta, and more!