In the latest Internet sensation, dark mode is now all the rage for people who constantly use their phones. The feature allows for the social media platform to make use of a dark or black background. Meanwhile, texts will appear in white to provide readability. As the trend continues to grow, more and more social media applications are implementing it. Here are the apps that offer dark mode and why you should start using it!
---
WhatsApp Finally Joins the Dark Mode Train
Facebook just recently announced that WhatsApp will now provide users with the option of dark mode. The decision was made in response to users constantly requesting that the popular app introduce it.
WhatsApp offers the feature in different varieties for users depending on the type of operating system. iOS users will see black and grey while Android users will see blue and grey. As a result, the varying colours match the system defaults on each operating system to minimise eye fatigue.
To turn on the feature, iOS users can open the phone's settings, tap on 'Display & Brightness' and tap 'Dark' to turn on the phone's system-wide mode. Meanwhile, Android users can follow the same instructions for their own phones.
However, those with Android 9 and below will need to open WhatsApp itself to enable the function. Simply open WhatsApp's settings, tap on 'Chats', select 'Theme', and choose 'Dark'.
Instagram
Just like WhatsApp, Facebook has enabled Instagram to function in a dark mode setting. While your screen will still light up from the pictures, it's still helpful when your other apps are black. In fact, the only way to enable the feature on Instagram is by enabling dark mode on your phone. Therefore, every possible app will enable the function.
The procedure to turn on your phone's system-wide dark mode is the same as mentioned under WhatsApp.
Microsoft Outlook
Microsoft is now available in dark mode and it's looking really good. In fact, you and your battery can benefit from the true black backdrop and accent colours. Additionally, Microsoft plans to roll out the feature for Word, Excel, OneNote, PowerPoint, SharePoint, One Drive, Planner, and To-Do as soon as possible. Turning on dark mode requires you to open Microsoft Outlook's settings and turning on the function.
Gmail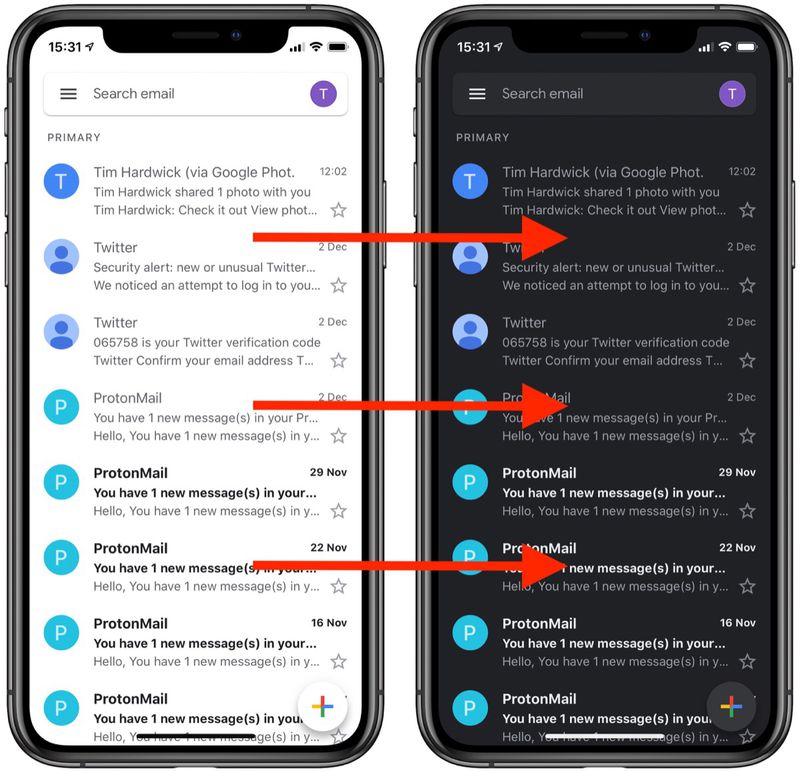 Moving on, Gmail for Android introduced the feature toward the end of 2019 and functions with a dark grey background. To enable it, tap the menu icon in the Gmail app and select your 'Settings'. From there tap on 'General Settings', choose 'Theme', and enable 'Dark' to enjoy a darker screen.
YouTube
Watching videos in bed when you can't fall asleep is a pretty common thing to do. However, the light can be really glaring sometimes and cause eye strain. Which is why you should enable the YouTube dark theme. Simply tap your icon in the top right corner of the screen, tap on 'Settings', and choose the 'Dark Theme'.
Benefits of Dark Mode
The biggest and most obvious benefit of the dark mode feature is that it lessens the burden of light on your eyes. Using your phone with a bright light while in a low-light environment will cause eye fatigue.
These can then lead to headaches, sore eyes, and even hinder your ability to sleep. Having a white background also means that your phone is producing blue light to help you see better. However, this blue light also suppresses the secretion of melatonin, a hormone that's essential for good sleep.
Furthermore, having a true black background will help you save on your battery life. This is because the pixels in your screen won't have to work so hard to produce a bright and white light. Therefore, less battery is needed to push through.
So now it's time for you to open all your apps and enable the dark mode function. Better yet, enable it on your phone's system!