As Malaysians we hold a very special place in our hearts for food. In fact, many of us would drive long distances just to get some good food. On the other hand, we have no problem making a trip to a furniture store just for the food. I mean, who can truly resist those iconic IKEA meatballs?! Now with the MCO everyone is at home and trying their hand at new recipes. Some of us might be recreating dishes that we miss going out to eat. Well, IKEA has released the official recipe for their meatballs!
---
Droolworthy IKEA Meatballs
That's right, the popular furniture store knows how much the IKEA meatballs mean to people around the world. In light of many countries implementing some sort of stay-at-home programme, IKEA is sharing their beautiful meatballs with us.
However, the cool part about this recipe is that they have designed it to look like one of their instruction manuals. You know those that sort of look like a brochure with instructions on how to assemble your furniture. So cute!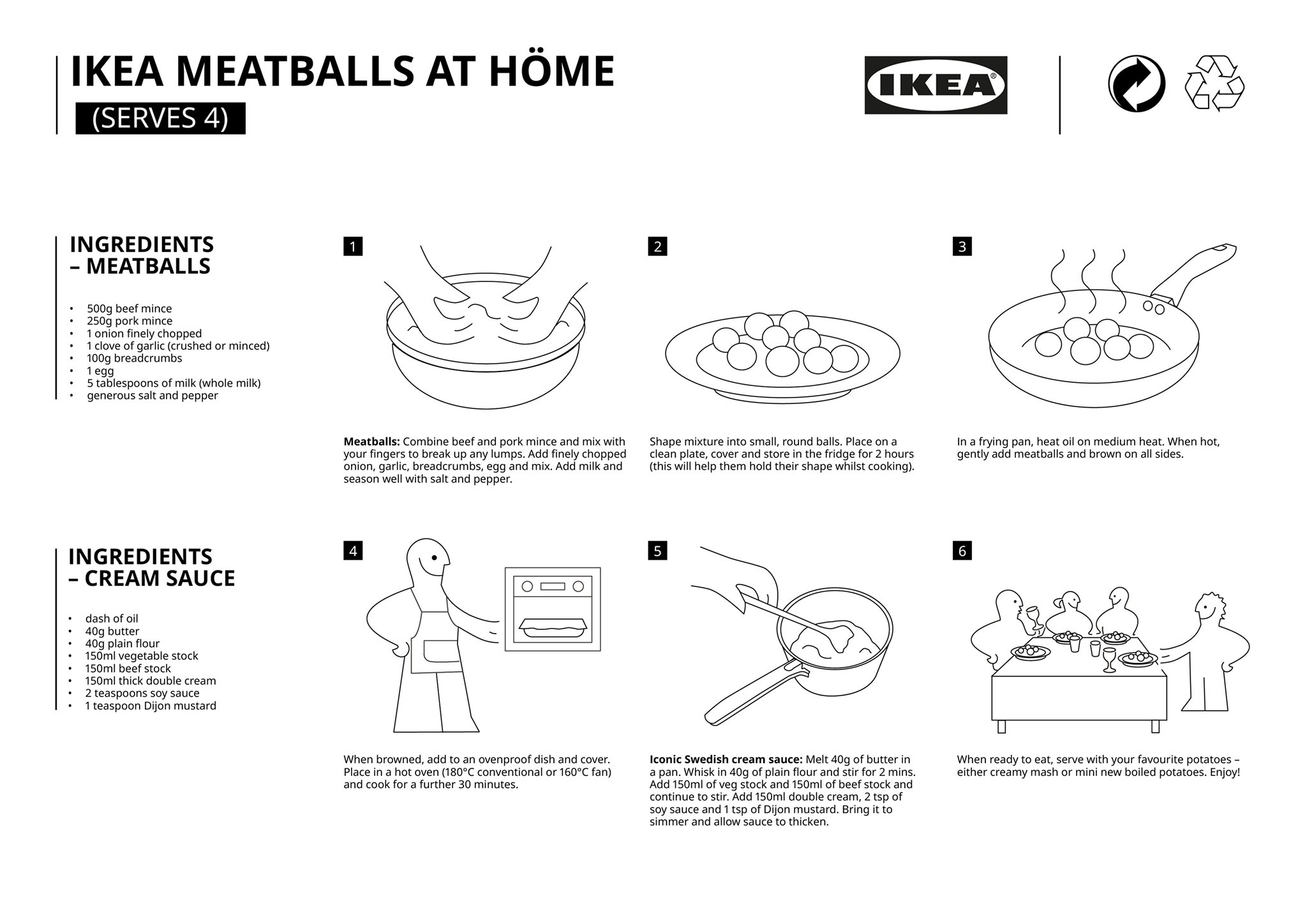 Meatballs
For your meatballs you will need:
500g minced beef
250g minced pork
1 onion, finely chopped
1 clove of garlic (crushed or minced)
100g breadcrumbs
1 egg
5 tablespoons of whole milk
salt and pepper
Firstly, combine the meats together in a bowl with your hands to get rid of any clumps. For the halal version we recommend replacing the pork with more minced beef. And for anyone who doesn't eat beef, you can substitute everything for minced chicken.
After combining the meat, add your onion, garlic, breadcrumbs, and egg. Mix well to incorporate everything. Then combine with the milk and salt and pepper according to your preference. Next, shape the meat into little balls about the size of the IKEA meatballs. Heat up some oil in a frying pan and brown the meatballs on all sides.
Once the meatballs are brown, put them in an ovenproof dish and cover with aluminium foil. Bake it in your oven (180°C conventional oven and 160°C for fan) for about 30 minutes.
Gravy 
Your ingredients for the gravy are:
dash of oil
40g butter
40g plain flour
150ml vegetable stock
150ml beef stock
2 teaspoons soy sauce
150ml thick double cream
1 teaspoon Dijon mustard
For the iconic Swedish sauce that goes so well with the IKEA meatballs, you first need to melt your butter in a pan. Next, stir in your flour until there are no lumps in the mixture (this is called a roux). We have included a video below to show you how to create this roux. Then add in your stocks and stir to combine. Instead of beef stock you can use chicken stock or more vegetable stock.
Once everything is combined, add in your soy sauce, cream, and Dijon mustard. Stir it all together and let it simmer on a low fire until it's thick. After that all you need to do is pour it all over those meatballs!
IKEA Meatballs Delivery 
However, we understand that some of you might not be able to cook this at home. Or maybe you want to take a break from cooking and treat yourself. Well then we have good news because you can now get your IKEA meatballs delivered to you!
IKEA is now partnering with Bungkusit so you can still have your meatballs at home. Furthermore, they have a special Ramadan menu which includes murtabak, chicken satay, and assorted kuihs.
Additionally, you will receive 15% off on your total bill if you have your food packed in IKEA's reusable takeaway containers. Now you can enjoy your food and help do your part in saying no to one-time use plastics!
You will need to download the Bungkusit app which is available for both Apple and Android phones. We wish everyone a happy and healthy Ramadan at home!