Libraries are a great place to boost productivity thanks to the environment. There's something about the quietness and stillness that really helps you to focus. Additionally, seeing others focusing on their own tasks can encourage us to work on what is in front of us. Whether that's reading a book for leisure or studying for an exam or finishing an assignment. Here are 5 libraries that you should check out if you're searching for a productive environment.
---
Penang Digital Library
The Penang Digital Library
will be a unique experience as you won't find any books here! At least not physical ones. Everything here is on the cloud! This Penang Digital library aims to give you the best productive environment while working towards evolving libraries. As a community space, there are two buildings. The 'Mansion Library' is 4,000 sq ft while the 'New Annexe' is 10,000 sq ft. Do take note that you will need to
register for a slot
to enter due to new SOP guidelines.
Kuala Lumpur City Library
Located at Dataran Merdeka, the Kuala Lumpur library is ready to help boost productivity! You can enjoy a mini auditorium, multipurpose hall, and more. The library is also well furnished with books and comfortable seating areas to enjoy a good read. Other than that, there are desks and chairs for you to study or do some work.
Little Giraffe Book Club
The Little Giraffe Book Club is a small and private library that is oriented towards family and personal development. It was founded in order the implant the healthy habit of reading as well as to encourage parents and children to spend time reading together. You can browse through their collection of English, Chinese, and Bahasa Malaysia books.
Raja Tun Uda Library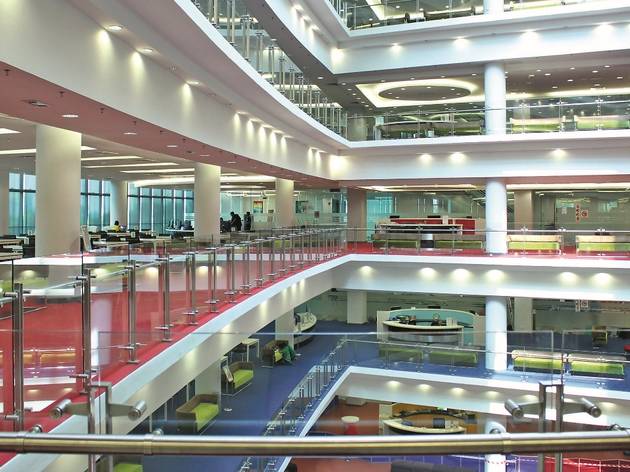 The Raja Tun Uda Library is a modern 6-floor library that is located in Shah Alam. Be sure to grab a seat near the windows to enjoy the beautiful view of the scenic lake. Aside from that, the library is also well-equipped to give you a productive environment. There are spacious and comfortable workstations as well as a cafeteria and children's zone. Tired from reading? Take a walk through the park located behind the main building which is lined with trees and plants labelled with information.
TTDI Public Library
The Taman Tun Dr Ismail (TTDI) public library is also a great productive environment for anyone looking for a quiet spot. It is in a quiet area of the neighbourhood and offers plenty of parking. You can pick up and book and enjoy it while sitting back in a comfy chair or use one of the many desks. There are also computers available for you to use.