Do you always find yourself looking at a limited range of lipstick shades and struggling to find the perfect one? Gucci might be your new solution. The Italian fashion brand has recently relaunched the makeup line with lipstick. Gucci creative director Alessandro Michele is the mastermind behind the inclusive line of lipsticks.
---
The Colours
The lipstick line is available in 58 different shades and 3 different finishes. The finishes include Rouge à Lèvres Satin, a satin finish; Rouge à Lèvres Voile, a sheer finish; and Baume à Lèvres, a translucent lip balm. Take note of the subtle violet scent that accompanies the lipsticks. Each lipstick is priced at $38 each, or an estimate of RM158.
Alessandro Michele is taking inclusivity into the mix and is offering 10 shades of nude with various undertones along with nine red. Names of the shades are inspired by some of Old Hollywood's most famous lip looks. Inspiration is drawn from Michele's favourite iconic films and actresses such as Jean Harlow in Personal Property.
Out of all the lipstick shades, the star of it all is the shade 25* named Goldie Red. This is a true-red with a neutral undertone and is available in both satin and sheer finishes. Michele was inspired by his love of the colour red as well as his lucky number.
The Packaging
The tubes of the lipsticks are also inspired by vintage glamour. The Rouge à Lèvres Satin is a gold tube with an Alessandro Michele-drawn Art Deco design etched into it. While the Rouge à Lèvres Voile has a Victorian-inspired white rosebud pattern on it. And lastly, the Baume à Lèvres has turquoise tube, chosen by Michele referencing the time before pink was assigned as a female gender marker post war.
It sure sounds like every element and detail of the lipstick is taken into consideration. Newly-appointed Gucci global makeup artist Thomas de Kluyver is demonstrating how the lipsticks can be worn on other parts of your face. During the launch event, he showed how the Crystal Black Lipstick can be used as eyeliner, and how the 25* Goldie Red can be warmed on the back of his hand before being dabbed onto lips with a finger. Joslyn Clair was then used as a highlight. Sounds like a very multifunctional lipstick line, and definite must-haves for all the beauty gurus and makeup enthusiasts out there!
The Campaign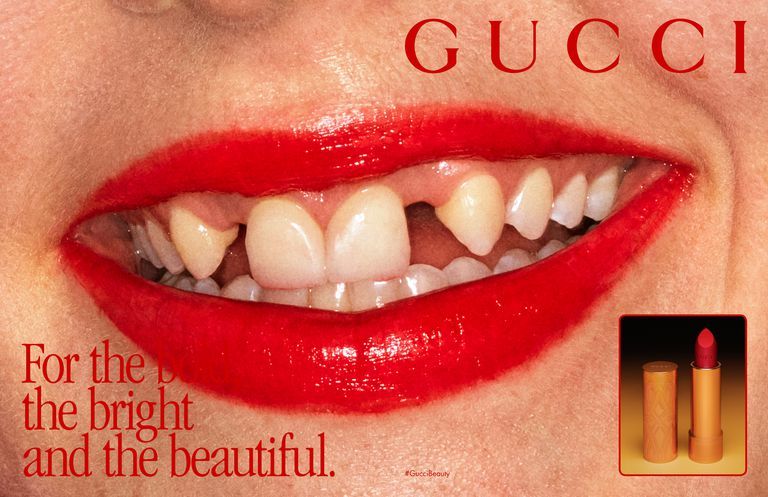 Gucci is using a very bold vibe with this campaign via throwback graphics and gritty rawness. The clear message to take away is that authentic beauty lies in imperfection. And it truly does so in some of the visuals that have been released. Close-ups of models and mouths that are less polished, less perfect, and definitely more realistic is what truly sets this campaign apart.
Sure looks like these lipsticks are Gucci! Slang intended. For now, the Gucci Makeup lipstick collection is available for purchase at Gucci.com, and the Saks Fifth Avenue flagship store in New York City. Anyone else would like to join us in prayers that it hits Malaysia's physical stores, Sephora maybe?