So everyone is stuck at home for another two additional weeks and we all know what that means. More pictures of delicious foods that our family and friends are cooking and sharing online. Some of us have probably already gotten down to trying out that recipe we've been holding on to. But sometimes we just don't have the energy to prepare a meal with all the cooking and baking involved. Which is why we're bringing these no cook and no bake recipes!
---
Cooking Again?!
In the beginning many of us were ready to cook delicious and healthy meals during this time at home. However, we are now about 24 days in and there's only so much you can cook.
It's not everyday that you will have the time or energy to make those complicated dishes. Moreover, it's not just about prepping but also standing at the stove and taking care of what's cooking. In fact, some of us might have already resorted to just toast and a cup of milo for a meal (and I don't mean breakfast).
No Cook Recipes
Firstly, let's talk sandwich recipes. You were probably already expecting this suggestion but bear with me. Sometimes it's not as hard as you think and you will have a yummy and healthy meal ready in about ten minutes.
The beauty of sandwiches is that you can just use whatever is in your fridge. Just choose a protein, add some vegetables and sauces and you are good to go! Leftover curry? Turn that into a curry chicken sandwich with your favourite vegetables.
There's of course the classic tuna sandwich which you can make it however you like. You can add in sauces and condiments that tickle your tastebuds. This is just a base recipe for you to follow if you'd like.
If you are feeling a little fancy then you should try your hand at a smoked salmon croissant sandwich. The next time you go grocery shopping just stop by the bakery for some fresh croissant or even brioche.
If you want to add a little brightness to your sandwiches then making a salsa will be a great addition. Here's another tip, instead of using bread for your sandwich you could use a tortilla wrap. You still get all that yummy goodness.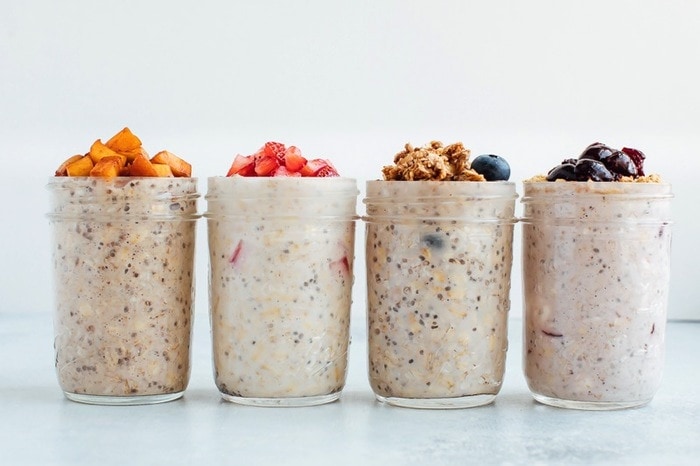 Moving on, overnight oats are super duper easy to prep and you can have a few jars sitting in your fridge to grab whenever you want. You could probably prepare your overnight oats in five to ten minutes. In addition, the best part is you can make it taste however you want!
Looking for an easy side dish for your next meal? Try these fresh spring rolls to add some colour to your table. It's easy to make and you can make it ahead of time. All you need to do is keep it in the fridge and take it out before serving.
No Bake Cakes
You really want chocolate cake but can you spare the time to mix and bake and wait and ice and chill? If not, this no bake chocolate cake has got you covered and you don't even need that many ingredients.
A no bake cheesecake has to be on this list because it is such a classic. With this recipe you can make it your own. Add a little strawberry jam to get a strawberry cheesecake. Maybe a dash of melted chocolate for a chocolate cheesecake. Get creative with it!
Don't forget to explore more recipes like these that require less effort and time.