We're not sure if you've seen a meme circulating on the Internet that goes like this: January, February, Lockdown, December. And we're not going to lie, it really does feel like the past two months has just gone by in a blur! First, we had the MCO and "panic stage", and now we're under a CMCO, where things are gradually being stabilised. However, it's not an all-clear yet, and we all have to adapt to the current situation. So check out what we, as a nation, are doing adjusting to a new normal amidst the Covid-19 onslaught!
---
1) Working From Home Could Be A Permanent Option
It really depends on the trust between employer and employee, but some corporations are looking at working from home (WFH) a permanent option. Permodalan Nasional Bhd (PNB) was one of the first corporations to allow WFH as a permanent option, saying that WFH worked well for them. In time to come, other companies could follow suit as well. WFH is definitely a good change; provided trust, understanding and responsibility are there!
2) Social Distancing
Forget about overcrowded restaurants and malls especially on weekends! The basic rule of not contracting Covid-19 is to avoid contact, and good to see most of us are practicing social distancing pretty well. As you should know by now, dining in at eateries is now allowed, though not more than four to a table. Even at shopping malls there are rules of social distancing, allowing shoppers to shop with better peace of mind. It means that we may spend more time queuing up, but safety comes first! Honestly, we could get used to this being a long-term thing — more personal space!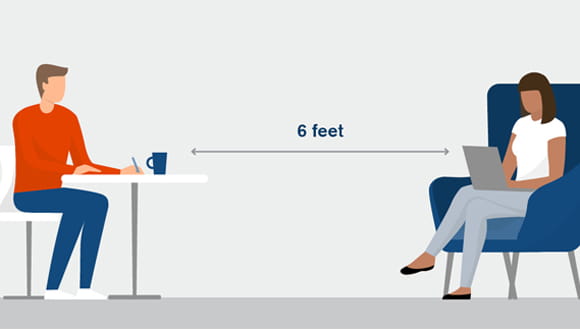 3) Online Shopping Is The Way To Go
So much so that delivery services are actually overwhelmed! Especially during the MCO where practically nothing was open, most of us relied on online shopping and delivery. The trend still continues as online shopping is convenient and safe. As delivery services have their hands full, remember to be patient awaiting your parcels, and order in advance if there's something you need by a certain date! On a side note, do you know what we Malaysians bought the most online since the MCO? The answer may surprise you, but find out more with these 10 Things Malaysians Buy Online More Often Since The MCO Started!
4) Weekends Are No Longer Hangout Days
Who remembers the days when weekends were the days you hit your friends up and just went out? Whether it was cafe hopping, watching movies, going shopping or anything else, nowadays weekends are for (still) staying at home. To be fair, it isn't exactly safe to be out and about, and it's not really enjoyable having to worry about getting sick as well. Having a weekend out seems like a distant memory to us! But, if you're heading out, you're going to need some antibacterial wipes to help keep the virus at bay!
5) Businesses Are Rethinking Their Business Models
The whole world is affected, and many businesses have to think of their feet — and quickly — to stay afloat. A lot of them, of course, switched their focus to e-commerce, and F&B merchants got creative as well. Instead of just offering "ready" food, they also came up with DIY kits, where you could assemble your own meal at home. These proved to be a hit! And it's not just the F&B industry; the fitness and dance industry has been revolutionised as well. Taking Live or Zoom classes is the norm nowadays, and people are "attending" classes right at home!
6) Discovering & Settling Into New At-Home Routines
We bet that previously, a lot of you set up your routines based on whatever that was going on outside. You planned your day according to places you had to go, basically. Well, now, there's actually nowhere for you to go, so routines are now formed around the house. Having a routine is a great way to maintain organisation in your life, and it helps when it comes to adapting to change as well. And an at-home routine trumps an outside routine, simply because you cut down on all the travelling time!
7) Picking Up A New Skill/Hobby
In relation to the item above, it's precisely because of all the extra time we have that we're doing a couple more things! Some people have done things they've always wanted to do but "never had time" and picked up/rekindled a hobby! And not just that, but some have even gone a step further and turned their new thing into a business opportunity, and we say yes to that! This just shows that if we put our minds to something, we can do it, and even in difficult circumstances, there's a silver lining.
8) Being Kind & Considerate
These difficult times bring one good thing, at least: we noticed that people are being nicer, kinder and more considerate to each other. Some of us made donations, some of us tipped delivery riders, some of us offered discounts on our own services, and some of us sent out kind messages to check on people around them. All these are little ways of cultivating kindness, and it shows that in times of difficulty, we can band together. With this habit, the world will be a better place, and that's one thing to be thankful for!