Looking for an ultimate escape from all the stress at work or simply longing for a short break? Other than taking a weekend trip, why not indulge yourself by revitalising your mind and body in a spa? If money's not an issue, check out these 8 Luxury Spas In Klang Valley To Pamper Yourself listed in alphabetical order.
---
1) AWAY Spa @ W Kuala Lumpur
Rejuvenate your mind, body and soul in this 1,100 sqm of a posh-looking spa at Hotel W Kuala Lumpur. AWAY Spa eschews a traditional spa setting in favour of contemporary vibes with familiar massage and therapy under one roof. Stepping into a treatment room feels like a world away from your usual expectation, with fashionable violet interior and comfortable massage beds that have blue illuminations underneath. Expect the likes of traditional Malay urut (massage), bio-infrared saunas and aromatherapy steam bath — all specially created to make you feel brand new at the end of the session. Keep in mind that appointment is required to secure a slot.
Address: 13th Floor, W Kuala Lumpur, No 121, Jalan Ampang, 50450 Kuala Lumpur. | Opening Hours: Daily 10 am to 9 pm | Tel: 03-2786 8888
2) Banyan Tree Spa @ Jalan Conlay, KL
Experience traditional Asian healing therapies at Banyan Tree Spa, a sanctuary which evokes an oasis of calm and tranquility. For an ultimate spa indulgence, go for their signature five-variety Sense of Place – Malaysian Bliss. Alternatively, you can pick different Asian massage therapy such as Oriental Massage (Chinese Traditions) and Balinese Massage (Indonesian Traditions).
Address: 2, Jalan Conlay, 50450 Kuala Lumpur. | Opening Hours: Daily 10 am to 10 pm | Tel: 03-2113 1888
3) Iridium Spa @ The St. Regis KL
You will be in the good hands of a highly-trained therapist at Iridium Spa, with various head-to-toe treatments available. You can either relax on their plush lounge chair for a revitalising foot or hand therapy, or go for their range of bespoke massages such as the tension-relieving De-Stresser and the uplifting Jet-Lag Reviver. If you have ample time to spare, why not pamper yourself to the fullest with their Iridium Signature Rituals package such as the 120-minute Sleep Couture and 210-minute The Heritage Tea Aficionado?
Address: No 6, Jalan Stesen Sentral 2, Kuala Lumpur Sentral, 50470 Kuala Lumpur. | Opening Hours: Daily 10 am to 10 pm | Tel: 03-2727 1111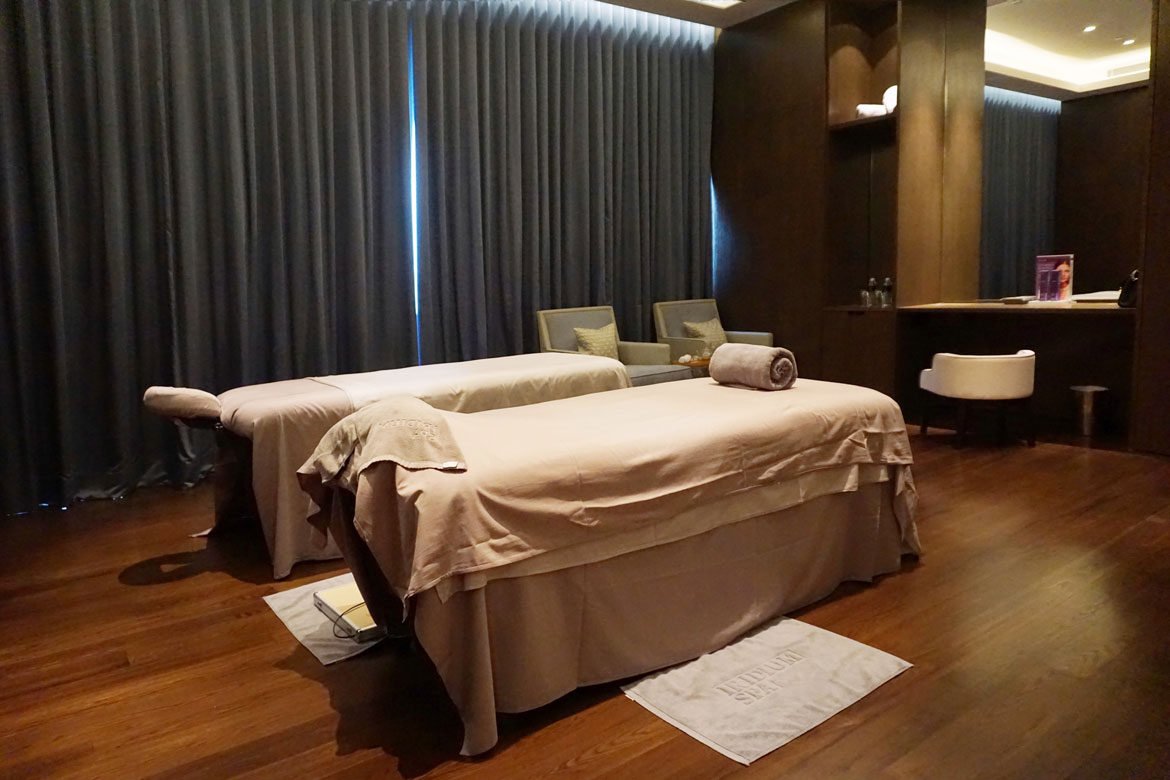 4) Khareyana Spa @ Jalan Selangor, PJ
Here's a spa retreat that makes you feel like home both figuratively and literally. After all, Khareyana Spa is situated in a private bungalow-turned-spa — all beautifully adorned with Balinese-style decor and a large koi pond. There are several spa treatments available, namely the sea salt-based Revitalising Marine Premier Spa and the holistic Balinese Sensual Range.
Address: 36, Jalan Selangor, 46050 Petaling Jaya, Selangor. | Opening Hours: Daily 10 am to 7.30 pm | Tel: 03-7958 6219
5) Mandara Spa @ Sunway Resort Hotel & Spa
With over 30 treatments available, there's definitely something for everyone at Mandara Spa. This includes the likes of Balinese Massage, Aromatherapy Floral Footbath and Ocean Detox Wrap. The latter is essentially a body wrap treatment using a combination of seaweed and clay. The location itself particularly a winner: a spa retreat that is perched atop the highest peak of an 800-acre tropical garden surrounded with lush greenery.
Address: Persiaran Lagoon, Bandar Sunway, 47500 Petaling Jaya, Selangor. | Opening Hours: Daily 10 am to 9 pm | Tel: 03-7492 8000 ext 3888
6) So Spa @ Sofitel KL Damansara
So Spa offers the best of both worlds that help revitalise your tired bodies. Go for the local Malay Urut Massage or one of their World's Best spa treatments, namely the Golden Himalayas Ceremony or Oriental Massage. They also provide a special treatment called Hammam and Gommage, a 2 hours' worth of traditional Turkish Hammam skin-purifying and cleansing ritual designed to make you feel smooth and reinvigorated.
Address: No 6, Jalan Damanlela, Bukit Damansara, 50490 Kuala Lumpur. | Daily 10 am to 10 pm | Tel: 03-2720 6688
7) Spa Village @ The Ritz-Carlton KL
Spa Village fulfils its promise as an ideal me-time sanctuary at the comfort of The Ritz-Carlton Kuala Lumpur. Expect a wide range of spa treatments here, offering the likes of Traditional Royal Malay Treatment, Nusantara Treatment and Chinese Peranakan Treatment. For the ladies, check out their specially-created packages such as the pressure-relieving Awet Permaisuri (Queen's Royal Indulgence) or Rose Therapy. Not to forget the men-specific therapies including Gandapura Therapy and the traditional Hang Tuah massage & treatment combo.
Address: The Ritz-Carlton Kuala Lumpur, Level 4, 168 Jalan Imbi, 55100 Kuala Lumpur. | Opening Hours: Daily 10 am to 9 pm | Tel: 03-2782 9090
8) The Spa @ Mandarin Oriental KL
It's pure spa indulgence at Mandarin Oriental Kuala Lumpur's The Spa, with various personalised treatments designed for your respective needs. The list is no doubt extensive, covering from head-to-toe Digital Wellness Escape to the deep-tissue Aromatherapy Massage and the body-relaxing Psammo Gold Serenity.
Address: Mandarin Oriental Kuala Lumpur, Kuala Lumpur City Centre (KLCC), 50088 Kuala Lumpur. | Opening Hours: Daily 10 am to 10 pm | Tel: 03-2380 8888