Bentong may be a quaint, small town in Pahang, but there are plenty of charms and attractions that make it worth a visit. Plus, it only takes you just over an hour's drive to reach Bentong from Kuala Lumpur. Here are 8 Interesting Things You Can Do in Bentong, Pahang.
---
1) Learn History At Bentong Gallery
Located at 17-18, Jalan Loke Yew, Bentong Gallery offers a history lesson of this former tin-mining town back in the old days. The gallery has three different exhibition halls in total, and each hall has a different focus. Hall 1 focuses on Mr Loke Yew's significant contribution in the tin mining industry during the early development of Bentong. Moving on to Hall 2, visitors get to find out more about tourist attractions as well as crucial landmarks in Bentong town. Finally, Hall 3 displays the past achievements and contributions of important figures, including the Sultan of Pahang.
Address: 17-18, Jalan Loke Yew, 28700 Bentong, Pahang | Tel: 09-222 7600 | Opening Hours: Mon-Tue & Thurs-Sun 10 am to 7 pm
Image Credit: @eelin.lim.31
2) Enjoy Homemade Ice Cream At Kow Po Ice Cream House
No visit to Bentong would be complete without making a stop at Kow Po Ice Cream House. It may look like your average mom-and-pop coffee shop but what makes this shop such a favourite among the locals and tourists is their unique homemade ice cream. Expect to be spoilt for choices since there are over 10 mouthwatering flavours such as chocolate, vanilla, coconut and durian. You can choose to have a scoop of ice cream or more on its own or order other varieties like ice cream float, ABC ice kacang or cendol special. Keep in mind the place is usually packed to the brim, particularly during weekends or public/school holidays.
Address: 2, Bentong Heights, 28700 Bentong, Pahang | Tel: 09-222 1258 / 016-931 0391 | Opening Hours: 10.30 am to 7.30 pm (Daily)
3) Buy Bentong Gingers At Kampung Baru Bukit Tinggi
Unlike your average gingers commonly found in supermarkets or pasar malams, Bentong gingers are known to be spicier and contain higher nutritional levels. They cost more than the usual gingers due to the difficulty of its growing process on the mountain of Bukit Tinggi. You can purchase some fresh Bentong gingers from numerous stalls along the street in Kampung Baru Bukit Tinggi. Keep in mind that Bentong gingers are noticeably plump in size and contains no filaments.
4) Get Your Durian Fix At Jimmy's Durian Orchard
If you love durian, Bentong is definitely the place to be. You can find plenty of durian orchards here, with one of them being Jimmy's Durian Orchard. Stretching to 20 acres, this family-owned orchard offers a variety of durians to choose from. This includes the likes of D24, Tekka and of course, the famous Musang King. And best of all, their durians are all 100% organic. No entrance fee will be charged for those who want to visit the orchard. Prices for the durians vary based on the specific type and weight. To avoid disappointment, it's best to give them a call beforehand to ensure the availability of durians you are looking for.
Address: Jalan Lama Bentong – Karak, 28600 Karak, Pahang | Tel: 016-203 1922 | Opening Hours: 9 am to 5 pm (Daily)
5) Visit the Japanese Village At Colmar Tropicale
Can't afford a trip to Japan? Then, this might be the next best thing to experience Japanese culture and attractions at Colmar Tropicale in Bukit Tinggi. You will find the likes of a Japanese teahouse, tatami spa as well as koi ponds and botanical garden. Female visitors can look forward to renting kimonos for photography purposes. If you are planning to visit the Japanese Village, you are required to climb uphill in order to reach the destination.
Address: KM 48, Persimpangan Bertingkat Lebuhraya Karak, Colmar Tropicale, Bukit Tinggi, 28750 Bentong, Pahang | Tel: 09-221 3888 | Opening Hours: 9.30 am to 5 pm (Daily)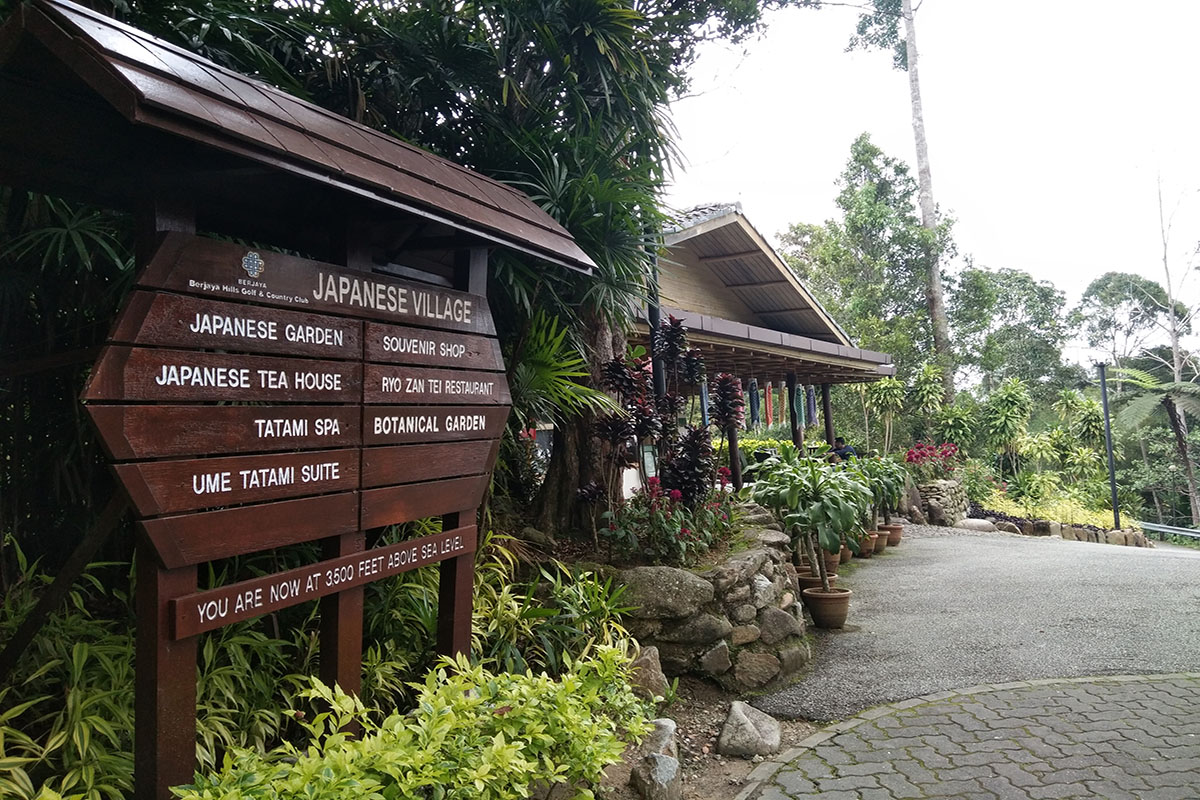 6) Have A Good Time At Chamang Waterfall
This is a good place for hangouts and get-togethers with your friends or family to escape from the hustle and bustle of city life. You can enjoy having a picnic here, swimming in the river or even taking some photos at the beautiful waterfall. A word of warning, though: As with most waterfalls, the rocks tend to be wet and slippery so it's best to proceed with extreme caution to avoid unwanted accidents. If you are a MyKad holder, it only costs you RM3 per entry fee.
Address: 28700 Bentong, Pahang | Tel: 017-366 6223 | Opening Hours: 9 am to 5 pm
7) Experience Peace And Tranquility At Kechara Forest Retreat
If serenity is what you are looking for, then you might want to check out Kechara Forest Retreat at Jalan Chamang. Situated within the forest enclave of Bentong, Kechara Forest Retreat is a 35-acre sacred land where you can immerse in the sights of the majestic 24-feet Tibetan guardian deity statue known as the Dorje Shugden. Other highlights include the Medicine Buddha Healing Fountain, Gyenze Chapel and the 11,000 sq. ft. Wisdom Hall where you can pray and make offerings. Find out more about Kechara Forest Retreat right here.
Address: Lot 3189, Jalan Chamang, 28700 Bentong, Pahang | Tel: 09-221 5600 | Opening Hours: 10 am to 5 pm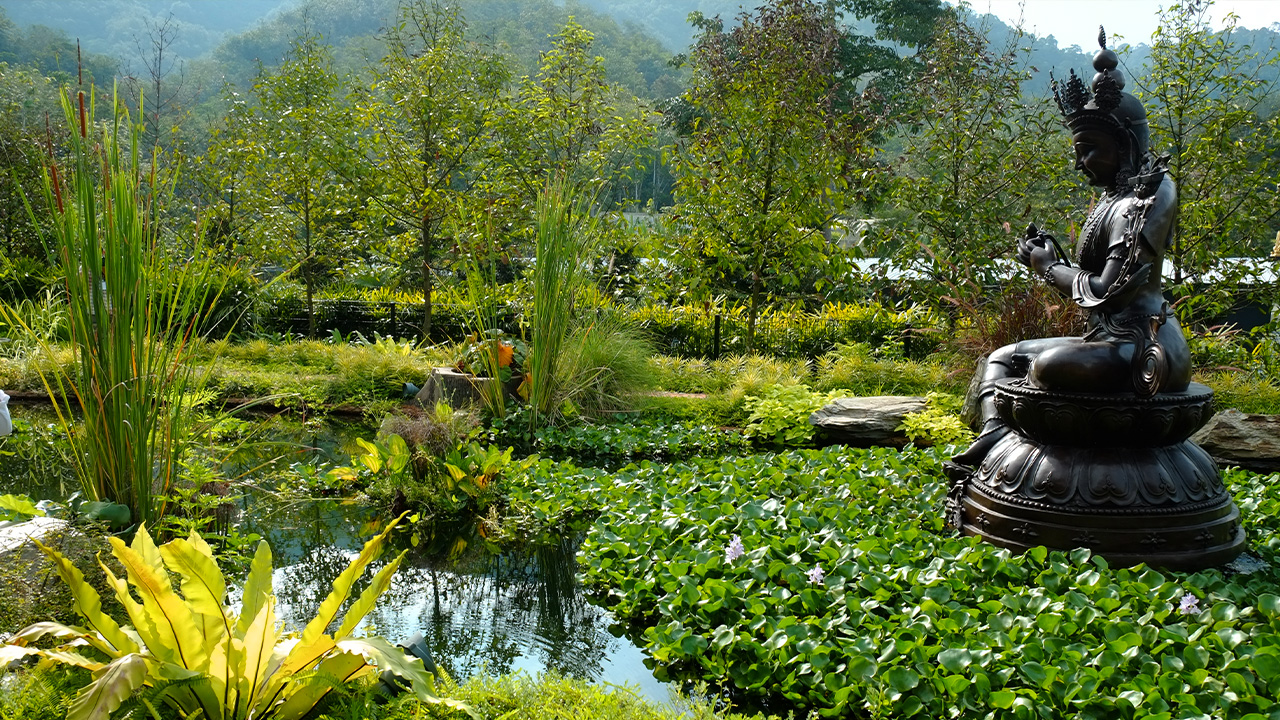 8) Take A Stroll At Bentong Walk
A joint initiative from both young and old residents of Bentong, this is where you can see the historic town filled with colourful murals and other tourist-friendly activities. You can also look forward to street performances and varieties of local foods and products like smelly tofu and Bentong ginger sold at the night market. Keep in mind that Bentong Walk only takes place on Saturdays.
Address: 92, Jalan Chui Yin, 28700 Bentong, Pahang | Opening Hours: 5.30 pm to 10 pm (Saturdays)
---