Besides the usual power bank, wireless Qi charger and earphones, there are plenty of other accessories you can pair or attach to your smartphone. That said, here are 8 Essential Accessories For Your Smartphone.
---
1) Selfie Light
Taking a perfect selfie is more than just a phone camera placement. Like any other photography, lighting plays a vital part in making sure your selfie looks flattering. Which brings us a handy accessory known as the selfie light, where you usually mount on top of your smartphone using a built-in plug or clip. It helps to illuminate as well as enhance the brightness, particularly if you are taking a selfie in the likes of a low-light or shadowy area.
2) Phone Stand
Let's face it, holding a phone for an extended period of time can be tiring. This is especially true if you like to use your phone to watch your favourite movies or TV series. With a phone stand, you can rest easy by utilising your phone hands-free without worrying about getting a stiff neck or a cramped hand. Other than that, mounting your phone on a stand means you get to multi-task while increasing your productivity at the same time.
3) Phone Tripod
Just like using a digital camera or DSLR, it is always important to keep your hands steady whenever you are taking a photograph. Sure, you may think that some phones with optical image stabilisation (OIS) able to help minimise camera shake and reducing blur. But the truth is, it only works up to a certain extent. Which is why you can invest in a phone tripod, which usually has a portable size made easy for carrying around wherever you are. Depending on the type of tripods, some have the standard three legs while others come with a trio of flexible octopus-like legs.
4) Phone Stabiliser
A phone stabiliser particularly comes in handy if you love to do vlogging. It is also a vital tool if you are looking to shoot your own short film that involves a lot of movement. Put it this way, a phone stabiliser is like a mini version of a Steadicam (the kind that is used in many major Hollywood productions, with Stanley Kubrick's "The Shining" (1980) being the prime example). Mounting your smartphone on a phone stabiliser allows you to enjoy buttery-smooth footage whether you are shooting the likes of walking or even a running scene. If your budget permits, look for reputable stabiliser brands such as the popular DJI Osmo Mobile 2.
5) Phone Mic
Whether you are shooting a vlog or short film, it would be nice if your video footage has a decent or better yet, an excellent sound quality. Sure, you can always rely on your phone's built-in audio but any professional vlogger or filmmaker would tell you that the most optimal sound often comes from an external microphone. An external microphone is often an important accessory for DSLRs and camcorders but you can also get a portable version made specifically for smartphones.
6) Clip-On Lenses
Clip-on lenses are no doubt one of the best investments if you often use your phone to shoot pictures. While the likes of high-end Huawei and Samsung models come equipped with the triple-lens camera setup, not everyone can afford to own those kinds of smartphones. Investing in clip-on lenses happen to be your next best alternative, where you have the option to buy an all-in-one lens kit that usually comes with a wide angle, telephoto, fisheye and macro lenses. They are portable and it's nice to have them around whenever you need to take different kind of photos.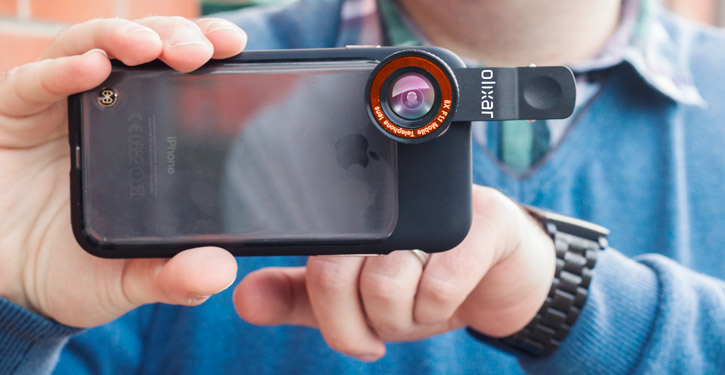 7) Phone Keyboard
While smartphones have their own touchscreen keyboards, they are no match with a physical keyboard. Investing in a keyboard for your smartphone is particularly useful if you type a lot, say, for blog posts or articles. The keyboard typically comes in a portable mini size made compatible with smartphones via Bluetooth connection. There are some keyboards that come in a slim, rigid design while others can be folded into two for better portability.
8) Gaming Controller
Wouldn't it be great if you can play your mobile game just like like a console game? Besides, playing a mobile game for an extended period of time using your phone's touchscreen is only half the fun. But luckily, you can always look out for a portable gaming controller or gamepad specially designed to mount on your smartphone. It works like a console gamepad, complete with dedicated buttons and joystick for easy control and navigation.