Apples are no doubt a versatile fruit. You can simply enjoy them raw, blend the fruits into a refreshing glass of juice or even incorporate the diced apples into your fruit salad. But did you know there is so much more you can do with these apples? Well, here are 7 Creative Ways You Can Enjoy Apples!
---
1) Bake Some Healthy Apple Chips
Tired of munching on the same old potato chips? Why not try to make your own apple chips for a change? Yes, you read it right because you can actually make good use of your apples and turn them into crispy yet healthy bite-sized chips.
All you need to do is start by preheating your oven to 250 degrees Fahrenheit (121°C). Then, wash and dry 2-3 apples thoroughly and slice them as thinly as possible using a knife (or if possible, use a mandoline). Make sure you brush off any seeds before you arrange the thinly-sliced apples on a baking sheet lined with parchment paper. Sprinkle them with some cinnamon powder and place the baking sheet into the oven. Bake for 45 minutes or at least until they become dried and turn golden brown.
2) Deep-Fry Some Apple Fritters
Most of us have grown accustomed to banana/cempedak fritters or commonly known as pisang/cempedak goreng. But if you are looking for something new, you can actually use apples — preferably Granny Smiths a.k.a. green apples — to make some apple fritters. Take 2 or 3 of them, all cored and cut into small dices. Then, combine the following dry ingredients (all-purpose flour, granulated sugar, baking powder, salt and cinnamon) into a mixing bowl. For wet ingredients, use another bowl to whisk 2 beaten eggs and add some milk. Once complete, fold both dry and wet ingredients together until they are all evenly combined before adding in the diced apples and make the batter.
Next, heat some oil in a pot around 340 to 375 degrees Fahrenheit (171°C-190.5°C) and deep-fry them in batches until golden brown. Remove them and place the deep-fried apple fritters on the paper towels to drain excess oil. You can either dust the fritters with some powdered sugar or simply wait for them to cool down a little before serving.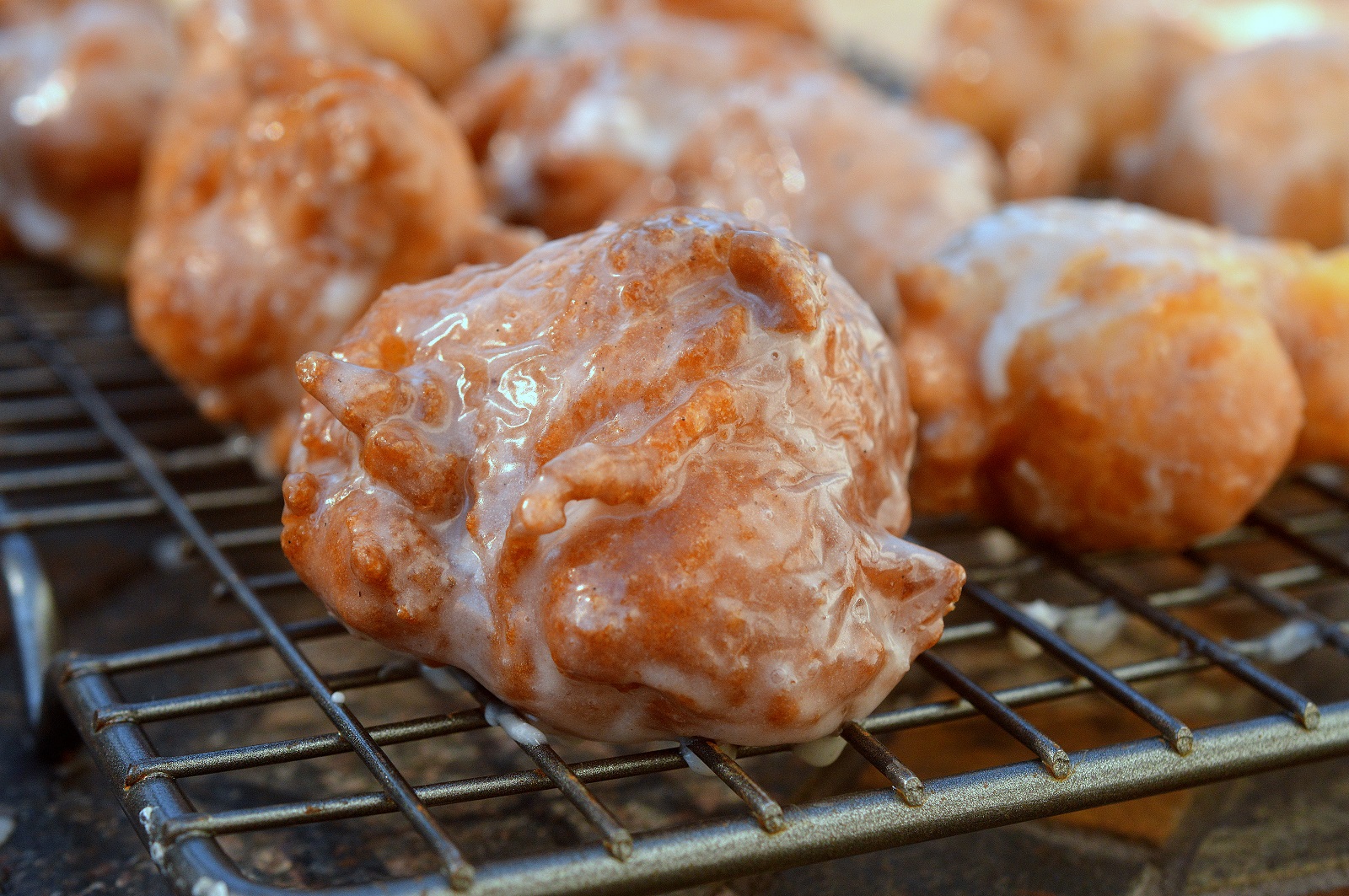 3) Make Pickled Apples
There are plenty of fruits and vegetables that you can turn into pickles. This includes the likes of mango, cucumber, ginger and onion. But did you know you can pickle apples as well? While it does sound unconventional, pickled apples give you a combination of juicy and crisp bite. Use Granny Smiths since they are your best bet, given its naturally tart flavour. Core 2 of them and cut into slices. Place the apple slices into a mason jar and fill them with pickling liquid (water, white vinegar, sugar and salt). Close the lid and refrigerate it at least overnight before enjoying them as a snack or appetiser.
4) Add Apple Toppings On Pancakes
When it comes to pancakes, you can basically add different kinds of sweet toppings such as sliced bananas and chopped berries. So, why not consider apples as well? Just make your own stack of pancakes as usual. As for the apple toppings, combine diced apples, brown sugar and cinnamon in a saucepan over medium-high heat. Stir the mixture until the apples become soft and tender. Pour apple topping over the freshly-made pancakes and enjoy!
5) Make Apple Ice Cream
Fancy for some fruit-flavoured ice cream? Try apples and the good news is, you can easily make them in your own kitchen. You basically need these few ingredients: sugar, milk, salt, eggs, heavy cream, lemon juice and of course, some apples. First, stir in the sugar, milk, vanilla extract, salt and beaten egg yolks in a saucepan until dissolved over medium heat. Pour in a bowl and refrigerate it for at least an hour. Next, combine heavy cream and vanilla extract into the milk mixture. As for the apples, cut them into halves and place in a blender or food processor along with sugar and lemon juice. Blend everything until the apples are fine. Finally, fold the apple mixture into milk mixture before transferring them into a freezer-safe container and freeze overnight or at least until firm.
6) Make A Frittata
Now, this is something unexpected. Frankly, most people would never think of adding apples into an otherwise savoury egg dish like frittatas. But here goes anyway: Just whisk some eggs as usual and stir in shredded cheese together. For the apples, slice them thinly and cook on a nonstick skillet over medium heat with melted butter until tender. Next, pour the egg mixture over the sliced apples and sprinkle some salt and pepper. Allow it to cook but do not stir and wait until the edges are set. Add shredded cheese on the top of the eggs and transfer the skillet to the preheated oven and bake for about 20 minutes. Once down, remove it from the oven and place the frittata on a plate. Cut into wedges and enjoy while still hot!
7) Make A Hearty Sandwich
Bored with tuna or egg sandwiches? Try this instead: A grilled peanut butter & apple sandwich! Simply spread your favourite peanut butter on each slice (two, to be exact), top one slice with apple slices and sprinkle some cinnamon powder. Cover the other slice on top of it and fry the sandwich in a pan over medium heat with melted butter for around 1 to 2 minutes on each side.