Whether you are a working professional or a college student, we all need an adequate amount of sleep every night. Otherwise, it can lead to negative effects such as poor concentration, mood swing and… yes, puffy eyes that make you look like Po from Kung Fu Panda. Depending on where you read or heard from, some say 6 hours is optimal while others claim you need at least 7 to 9 hours of sleep. But the good news is, you don't have to travel all the way to a sleep clinic to get your answer. Thankfully, there are plenty of apps that can help you sleep better and wake up refreshed the next morning. So, here are the 7 best sleep apps you should consider downloading into your smartphone:
---
Believe it or not, this app is actually recognized by NASA that helps the astronauts get their shut-eyes. Sleep Genius uses a combination of neuroscience and sound technology to help you sleep better, faster and longer. It has a 5-minute "Revive Cycle Alarm" that gradually awakens you with relaxing sounds and volume shifts instead of jolting you all of the sudden like a traditional alarm clock. Then there's the "Power Nap", which helps you get a sufficient amount of light sleep while "Relaxation Program" uses acoustic music selection to calm your mind before bed. Finally, "Personalized Sleep Reporting" allows you to track your sleeping patterns ranging from sleep quantity to sleep efficiency.
More than just an alarm clock, Sleep Cycle helps monitor your sleep cycles and movements using the built-in microphone and accelerometer on your phone. It also allows you to customize your wake-up window up to 90 minutes. Best of all, this app provides detailed sleep history through graphs and statistics.
This app allows you to customize your alarm clock using your favorite ringtone, as well as tracking your sleep patterns to help you wake up gently in the right time. Sleep as Android also features a selection of natural sound lullabies and even records your voice in case you snore or talk during sleeping period.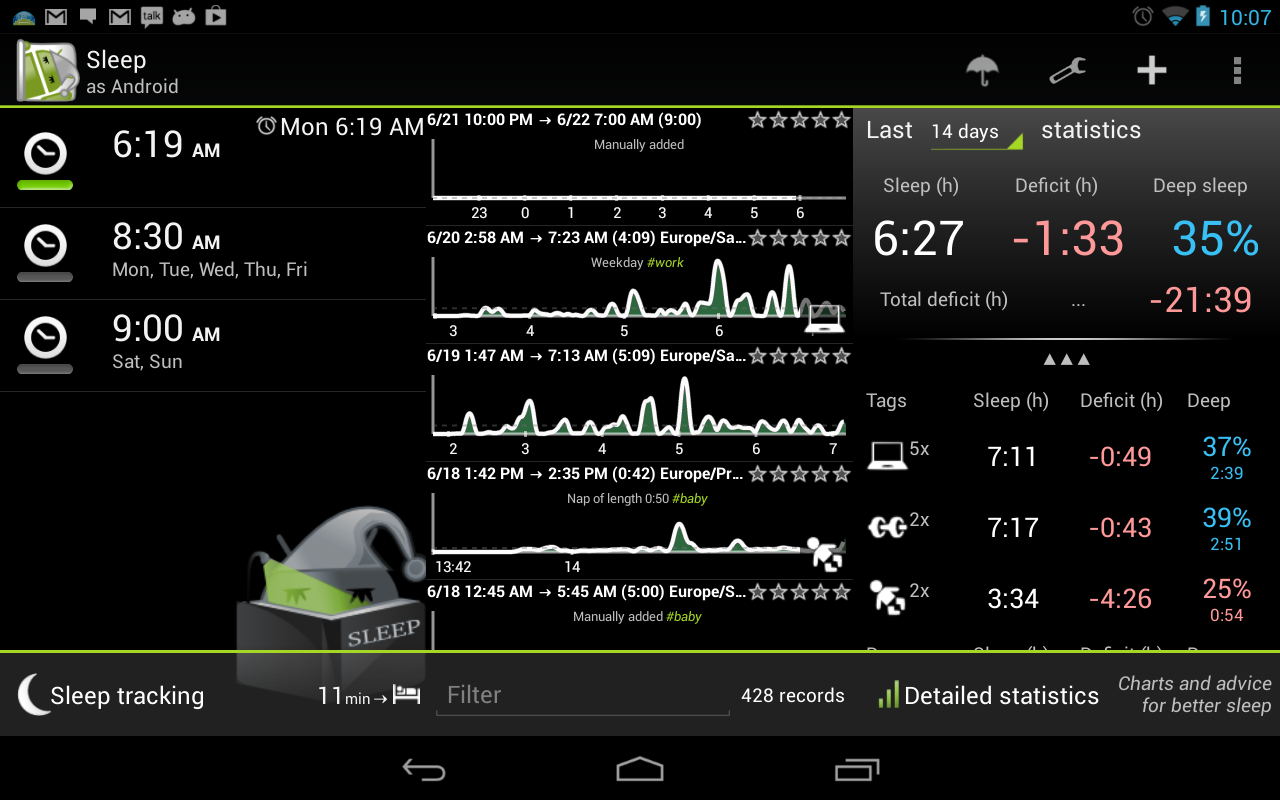 True to its name, Relax Melodies is an app perfect for those who often suffer from insomnia. It has an extensive selection of soothing sleep sounds, white noise and melodies that allow you to personalize your own mix.
The sleep app that even J.K. Rowling (yes, that world-famous author who created the Harry Potter series) once tweeted the recommendation herself. Thanks to its hybrid combination of relaxing sounds, music and voiceover that helps you de-stress, Pzizz is ideal for those who want a restful sleep or a power nap.
The name of the app says it all. White Noise offers you an array of high-quality ambient background sounds such raindrops, ocean waves and blowing winds that soothe your mind and of course, helps you to fall asleep. If that's not enough, you can even create and mix your own sounds.
Developed by renowned British hypnotherapist Glenn Harrold, this app uses hypnosis and meditation recordings to calm your mind, body and soul. There are also a few in-app purchases specially customized to overcome various problems such as anxiety, insomnia and stress.
---
https://www.facebook.com/tallypressmy/