Looking for dog-friendly cafes where you can dine in with your furkids? Taking them to a cafe can surely bring happiness not only to you but to them as well as it's certainly a change of environment. Sure, it can be a hassle to search for cafes that allow you to bring your pets to dine in with you.  Fret not, here's a list of cafes where you can bring your furkids and have an awesome pawsome time!
Dog Friendly Cafes in Singapore
---
1) W39 Bistro & Bakery 
At W39 Bistro & Bakery, you will get to enjoy wholesome European cuisine on the West Coast walk with your furry friends! This dog-friendly cafe welcomes your doggos to their cafe to have a good meal with them while they laze around. While you're there, you should try their popular dishes like Housemade Crab Cakes and BBQ Beef Brisket Sandwich! If you love desserts, don't forget to try their Matcha Charcoal Waffle with Ice Cream. Here, they have Furkid Friday where those with dogs can enjoy 10% off your total bill so bring your furkids along!
Email: contact@w39bistro.com
Address: 9 Jln Mas Puteh, Singapore 128637
Facebook: W39 Bistro
Instagram: @w39bistro
2) Casa Verde 
Located at Botanic Gardens, Casa Verde is an Italian restaurant that is dog-friendly and serves some really good Italian food. If you're up for Italian cuisine and would love your furkids to dine in with you, this is the perfect place to go to! Your doggo will be able to sit next to you while you enjoy your meals! Take a lovely morning walk with your furry pals at Botanical Garden and stop to have your breakfast here! Try their popular dishes on their menu like Gourmet Breakfast and Cinnamon Brioche French Toast, you won't be disappointed!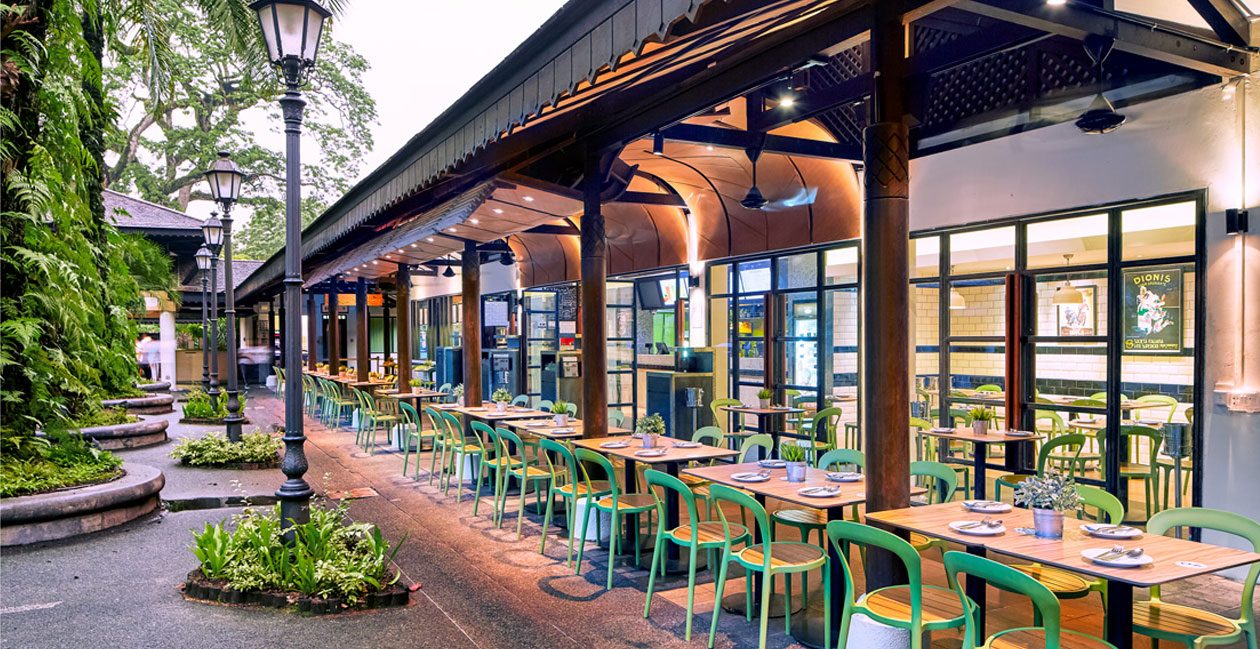 Website: https://www.facebook.com/casaverdesingapore/
Email: casaverde@lesamis.com.sg
Address:  1 Cluny Rd, Singapore Botanic Gardens, Singapore 259569
Facebook: Casa Verde Singapore
3) Five &2 Bistro 
Five &2 Bistro is a dog-friendly cafe nestled in Punggol Park which is cosy enough for you and your pets to chill together. They also have grass patches for your dogs to roam around and play. Serving mainly Asian and local cuisine, it would be a great place to enjoy your meals with your furkids in the evening as it has an amazing view with greeneries and a peaceful ambience. Five &2 Bistro gives back to the underprivileged kids, donating 1 nutritious meal with every 5 meals sold here, what a kind gesture! 
Website: https://www.fiveand2.co/
Email: feed@fiveand2.co
Address: 97 Hougang Ave 8, Punggol Park, Singapore 538792
Facebook: Five &2 Bistro
Instagram: @fiveand2.co
4) Whisk and Paddle
Known as the cafe by the river, Whisk & Paddles is dog-friendly and allows you to dine in with your furry friends. You can enjoy a cup of freshly brewed coffee with their homemade desserts and pastries. Besides that, they also serve all-day breakfast. There is surely something for everyone! If you prefer to chill with your furkids at night, this place is perfect to bring your furkids along as you can enjoy an icy cold beer at their veranda overlooking the river.  
Website: http://whiskandpaddle.com.sg/
Email: enquiry@whiskandpaddle.com.sg
Address: 10 Tebing Ln, Singapore 828836
Facebook: Whisk and Paddle cafe
Instagram: @whiskandpaddlesg
5) Kontiki 
Located at Passion Wave at Marina Bay, Kontiki is an American bar-restaurant that serves American food overlooking the river and Marina Bay's skyline. This place looks just like the beachside as they have umbrella shelters with foldable beach chairs at every table, feeling like you're on a vacation. This pet-friendly place is like most beach bars/restaurants where they allow you to bring your fur babies along. Besides their fine Western dishes such as their best seller Double Cheese Burger, they also have beers, wine and cocktails for you to enjoy a nice evening with your loved ones! 
Email: service@kontiki.sg
Address: 11 Rhu Cross, #01-02, Singapore 437440
Facebook: Kontiki
Instagram: @kontiki.sg