Unless you have been living under a rock, the boba tea craze has been an ongoing trend. These days, new boba outlets practically pop up everywhere continuously in the Klang Valley region. But here is another one: something that's strictly non-halal, clearly not for kids and yes, it comes with a boozy twist. These are 3 places where you can get your hands on alcoholic bubble teas in Klang Valley.
---
1) Coley Cocktail Bar @ Bangsar
Bored of drinking the same old whiskey? Or perhaps it got too old-school for you? You might want to head down to Coley Cocktail Bar, which is founded by award-winning bartender CK Kho (he also owns the gin-centric Pahit bar at Jalan Sin Chew Kee in Bukit Bintang). The menu specialises in a diverse range of cocktails, namely Gin & Coconut, the rum-infused Mary Jane and the bittersweet Double Take. Then, there's the Whisky and Bubble Tea cocktail. It basically consists of Jameson Irish whiskey, creme da cacao, milk tea and palm sugar. And of course, a topping of boba pearls for some added bites.
Address: 6-G, Jalan Abdullah, Off Jalan Bangsar, 59000 Kuala Lumpur. | Opening Hours: Mon-Sat 5 pm to 1 am | Tel: 019-270 9179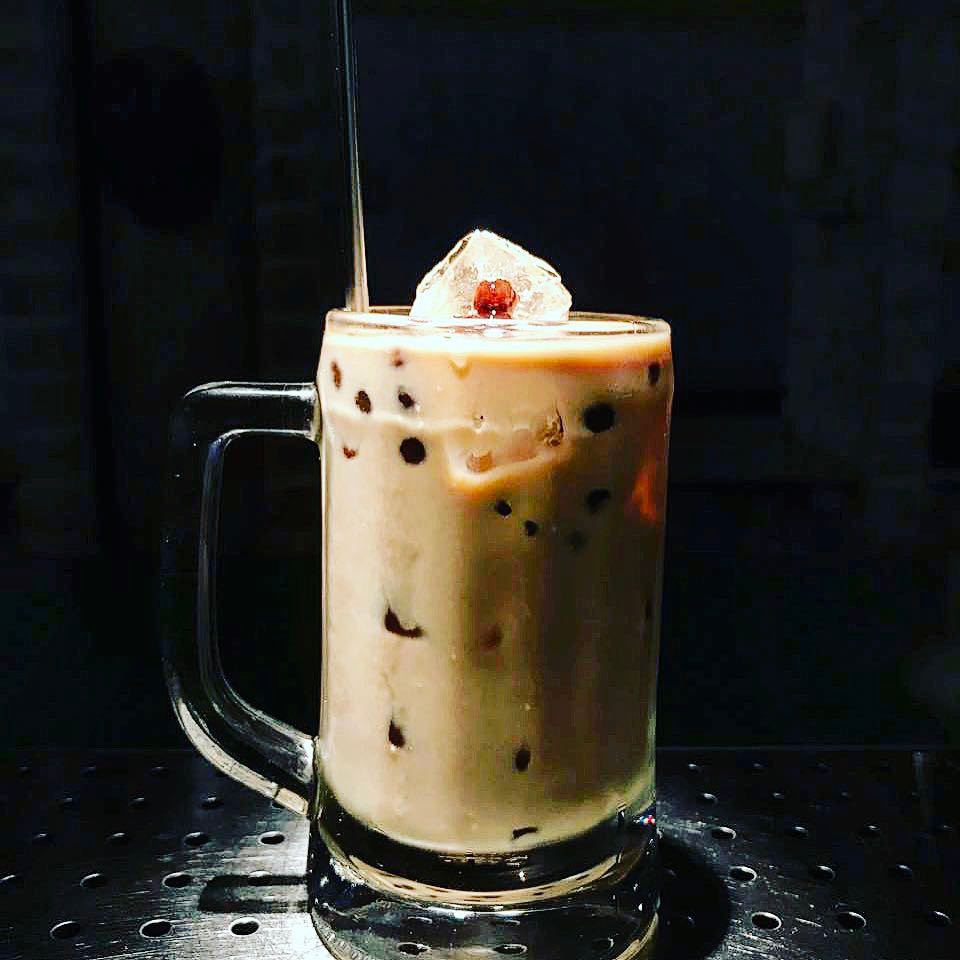 2) myPizzaLab @ Seapark
If the name of this pizza joint sounds somewhat familiar, that's because it's managed by the same team who brought us the famous myBurgerLab. Similar to that gourmet burger outlet, myPizzaLab particularly specialises in gourmet pizzas ranging from basic (Cheese & Tomato, the spinach-centric Popeye The Sailorman) to the meaty range. Interestingly enough, you won't find any chicken pizza here (hence the name: Anything But Chicken). But pizza lovers can look forward to something different such as Huat The Duck and Marys Lamb.
Now, comes the most interesting part: Typically, most of us would wash down our greasy pizza with a carbonated beverage or ice lemon tea. While both aforementioned drinks are available here, myPizzaLab takes it up a notch by including an alcoholic bubble tea called Jasmine Tiger Beer Boba. It combines a unique but oddly refreshing blend of jasmine green tea, Tiger Beer (yes, that Tiger Beer) and topped with rosemary sprigs and brown sugar boba. Your wholesome pizza meal will never be the same again.
Address: 12, Jalan 21/22, Seapark (Taman Sea), 46300 Petaling Jaya, Selangor. | Opening Hours: Tues-Fri 5 pm to 10.00 pm / Sat-Sun 11 am to 3 pm & 5 pm to 10 pm
3) Young Masters @ TTDI
Despite only less than a year old (it made its debut in mid-October 2018), Young Masters in TTDI is more than your average watering hole for beer, liquor and cocktail session. They even set up beer pong tables as well, making your night out all the more fun and stimulating. But wait, there's more: Young Masters have recently come up with two alcohol-infused bubble teas after co-owners Brandon Tan and Kevin Lim noticed the ongoing trend of boba teas.
First up, the Milo Bobasaur — a wholesome combination of Milo goodness with a splash of Baileys Irish cream whiskey, chewy brown sugar boba pearls and a dusting of Milo powder on top. Think of it as a childhood favourite spiked with an alcoholic twist that is made strictly for adults.
Not into chocolate? Then, you might want to consider this next best alternative: the Teaggly Puff, which combines a robust blend of Jameson Irish whiskey and the sweetness of coconut-flavoured Malibu rum. And just like Milo Bobasaur, Teaggly Puff is also concocted with milk tea and brown sugar boba as well as an added mix of marshmallow puffs.
Address: 100A, Jalan Burhanuddin Helmi, Taman Tun Dr Ismail (TTDI), 60000 Kuala Lumpur. | Opening Hours: 6 pm to 2 am (Daily) | Tel: 017-267 3960/013-883 3825