A natural phenomenon, waterfalls come in many shapes, sizes, and types. Some flow all year round, whereas some depend on weather. And others yet have "special effects"! If you're a waterfall enthusiast, you've probably heard of a few of these already, but continue reading to see what else we have compiled!
---
1) Svartifoss, Iceland
Located within Vatnajökull National Park in Skaftafell, Svartifoss, or "Black Falls", is framed by black lava columns. Especially well-known for the sharp rocks at its base, new hexagonal columns break off faster than the cascading water wears them down.
2) Cameron Falls, Canada
At first glance, Cameron Falls, while beautiful, may look like a typical waterfall. But heavy downpours create some magic. The rain stirs up argillite, which is a red mineral. Under perfect conditions, this mineral reaches the waterfall, and reflection of light turns the water pink! To increase your chances of witnessing this rare phenomenon, visit during spring or summer.
3) Plitvice Waterfalls, Croatia
A UNESCO World Heritage site, Plitvice Lakes National Park is best known for its various lakes arranged in cascades. As if that wasn't impressive enough, the water there can change colour depending on interplay of organisms and minerals, as well as the sunlight's angle. Gorge yourself silly with the abundance of the waterfalls and the impressive view!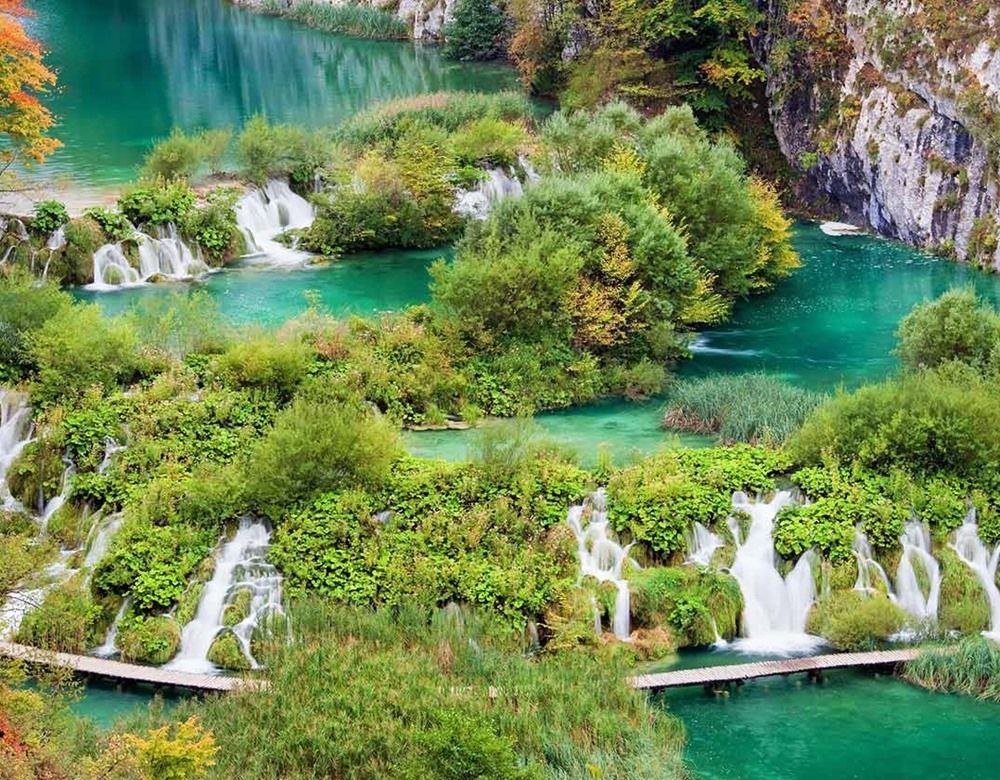 4) Detian Falls, China/Vietnam
Also known as the "Virtuous Paradise", Detian Falls is situated on the China/Vietnam border. There are a number of falls against the mountainous backdrop surrounded by lush greenery, which instantly captivates visitors.
5) Bigar Cascade Falls, Romania
Do you know how water runs off your umbrella in the rain? Well, this waterfall is just like that! Instead of falling in a sheet, the water here flows off the top of a fat, rounded stone covered in a carpet of moss in multiple streams!
6) Niagara Falls, Canada/USA
Probably the most well-known waterfall of all, Niagara Falls honestly needs no introduction. As you stand watching and hearing the crash of water, it's difficult to not feel awed and dwarfed by nature.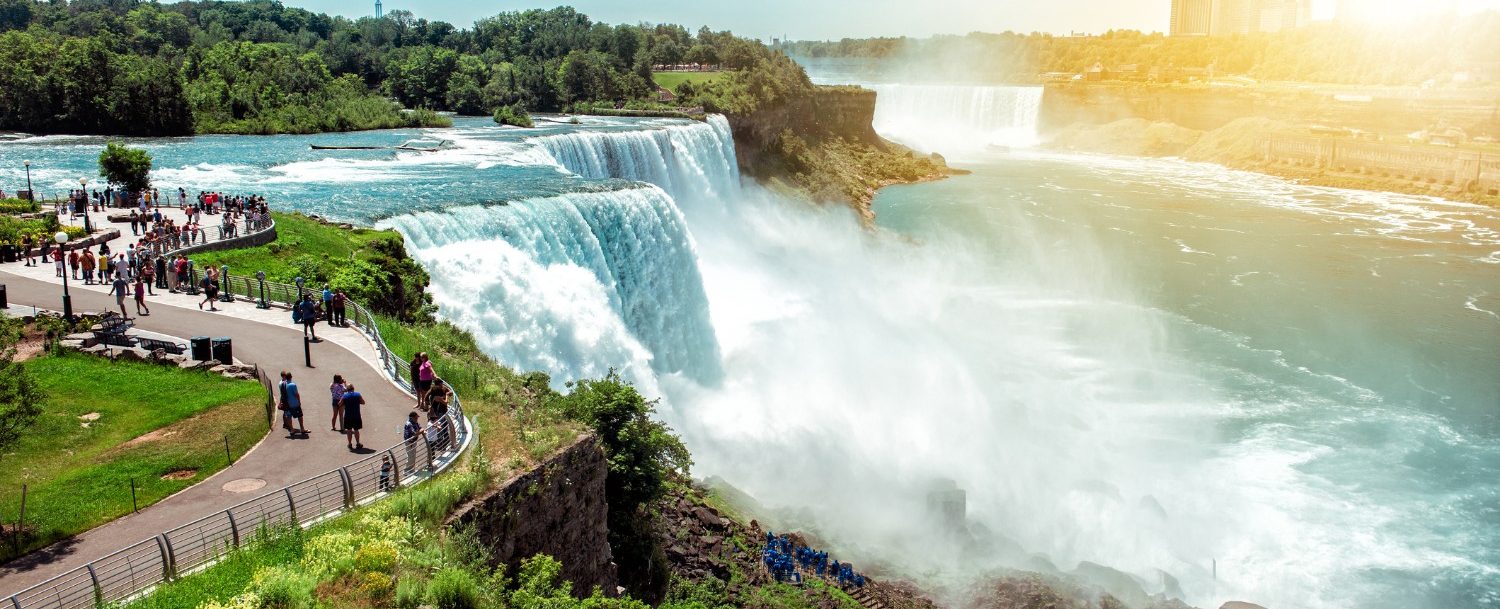 7) Gullfoss, Iceland
Iceland sure loves naming its waterfalls after colours. If Svartifoss was "Black Falls", Gullfoss here means "Golden Falls". Offering unparalleled views of nature, Gullfoss even has a rainbow shimmering over it on sunny days!
8) Blood Falls, Antartica
By its name, you probably already know that this waterfall bleeds red. The source of the waterfall is water that is extremely rich in iron and has never seen the sunlight. When it flows out, the iron oxidises and turns rust-red – hence the waterfall's name.
9) Horsetail Falls, USA
Just like Cameron Falls, Horsetail Falls in Yosemite National Park is a pretty cool waterfall anyway. However, around the second week of every February, Firefall occurs. When the setting sun hits the waterfall at the right angle, resulting the water to look like it's pouring lava instead! It's not a guarantee though; perfect conditions must be present, but you can try anyway.
10) Pamukkale, Turkey
Pamukkale, literally "cotton castle" in Turkish, is a collection of thermal pools that flow gently. The bright white terraces are in fact, remnants of carbonate minerals from the water that flows. A UNESCO World Heritage site, it is also a popular natural bathing spot.
11) Ruby Falls, USA
Ruby Falls is the only underground waterfall on this list, and also the most visited one in the whole of USA. Electrical lights are installed within the cave, which actually lends a mysterious glow to the cascading water.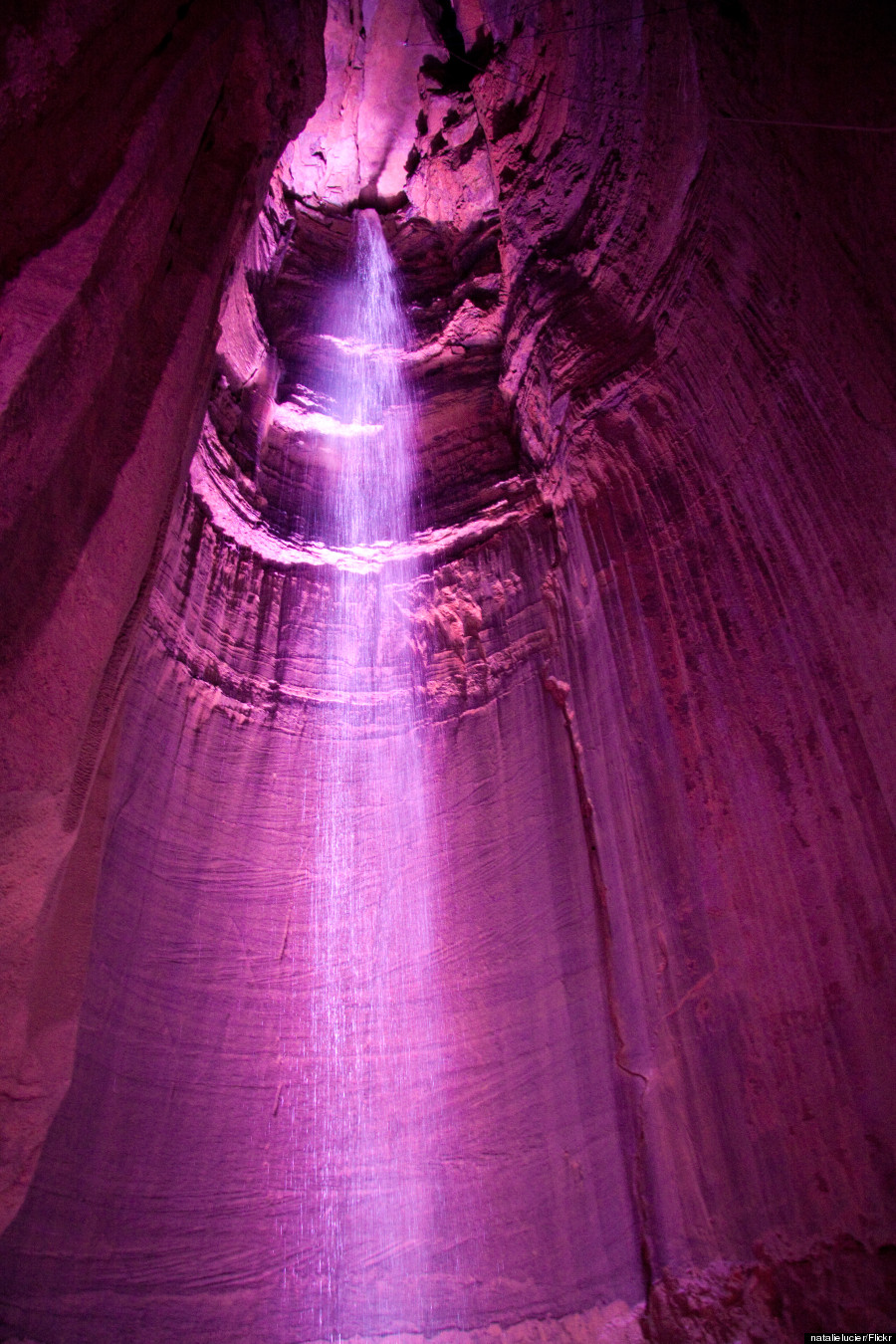 12) Horizontal Falls, Australia
From what I've gathered, uneven seawater distribution through a narrow gap in between two gorges produce temporary waterfalls up to 5 metres. Except that the water doesn't drop, but flows horizontally. The video will help clear things up because I'm still wrapping my head around it too!
13) Eternal Flame Falls, USA
In comparison to the rest of the waterfalls on this list, Eternal Flame Falls is small. However, what's interesting is that a small grotto at the base of this waterfall emits natural gas, which can be lit to create a small flame. It can be extinguished and must be re-lit sometimes, but usually it burns, slowly and steadily, even as water flows over it like a lampshade.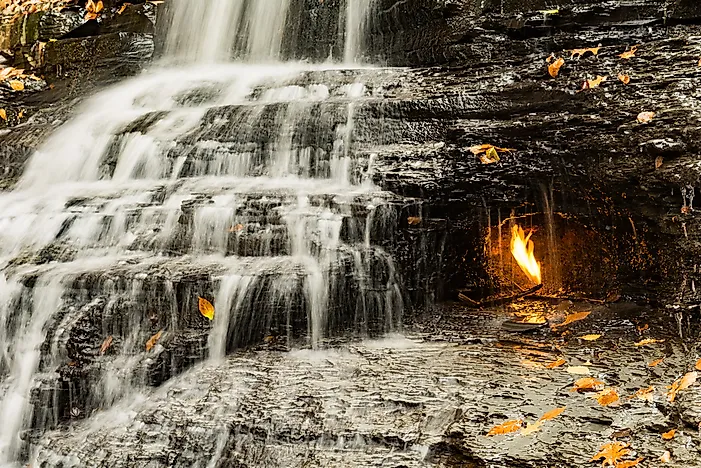 14) Victoria Falls, Zambia/Zimbabwe
Neither the widest nor highest waterfall, Victoria Falls nevertheless is home to the world's largest sheet of falling water after combining height and width. Also known as Mosi-oa-Tunya natively, it means "the smoke that thunders". On the Zambian side, you can swim in the Devil's Pool during certain times – right at the edge of the fall.
15) Devil's Kettle Falls, USA
This waterfall isn't actually awe-inspiring, but it's included because it's a mystery. A pair of waterfalls, one flows into a river, whereas the other goes… Well, no one knows. Researchers have tried in vain to figure out where the water goes by throwing in various objects such as ping pong balls or dye, but they never found it anywhere else again. Perhaps some things must always remain a mystery.
Which waterfall would you like to visit the most? Do you have a favourite waterfall that isn't included? Share your thoughts with us in the comments below!
---
https://www.facebook.com/tallypressmy/