Normally, when we wake up early in the morning, our popular go-to breakfast drink usually consists of coffee, tea or Milo. While there's nothing wrong with consuming one of these all-time breakfast staples, you can also consider blending your own smoothie for a change. And what's better than starting your morning session with vitamins and minerals-rich superfood smoothies? That said, here are 10 Superfood Smoothies To Kickstart Your Day!
---
1) Pomegranate Banana Smoothie
It's red meets yellow with this nutrient-rich pomegranate banana smoothie. For the former, this globular fruit is packed with vitamin C and B5 and fiber while banana is an excellent source of potassium that benefits your heart health and blood pressure. Mix these two superfruits together with a cup of ice and blend until smooth. You can also add in a spoonful of low-fat plain yogurt to elevate the taste while making the smoothie creamier.
2) Strawberry Banana Smoothie
Here's one of the all-time favourites that is both refreshing and creamy! You can use either fresh or frozen strawberries, both of which contain a rich source of vitamin C, B9 (folate) and antioxidants. All you need to do is throw in 2-3 cups of chopped strawberries and 2 sliced medium bananas into the blender. Then, add in a cup of plain yogurt or Greek yogurt if you want your smoothie to be thicker and blend until smooth. In case you don't have any yogurt in the fridge, you can also substitute it with milk.
3) Pineapple Coconut Smoothie
One word: refreshing. The kind of wake-me-up smoothie that gives you a much-needed boost to jumpstart your day first thing in the morning. And it's easy to make too. Just throw in chopped fresh/frozen pineapple, coconut milk and plain yogurt into the blender. Blend until smooth and enjoy!
4) Avocado Pear Smoothie
Avocado comes loaded with healthy fats, fiber and B vitamins. Not to mention this pear-shaped tropical fruit adds a distinctively creamy texture to any smoothie. And in this case, we go for the pear since it balances the creaminess of an avocado with its subtle hint of sweetness. Simply add in a 1/2 ripe avocado — all peeled and pitted, of course — with chopped ripe pear into the blender. Mix in plain or Greek yogurt if you want to and blend until smooth.
5) Carrot Ginger Smoothie
Boost your immune system first thing in the morning with this nutritious powerhouse of carrot and ginger. Packed with vitamins and antioxidants, you can reap plenty of health benefits from there. The ingredients are plain and simple: chopped carrot, freshly-grated ginger, turmeric, almond milk and fresh lemon juice. Combine all of them into the blender and blend until smooth.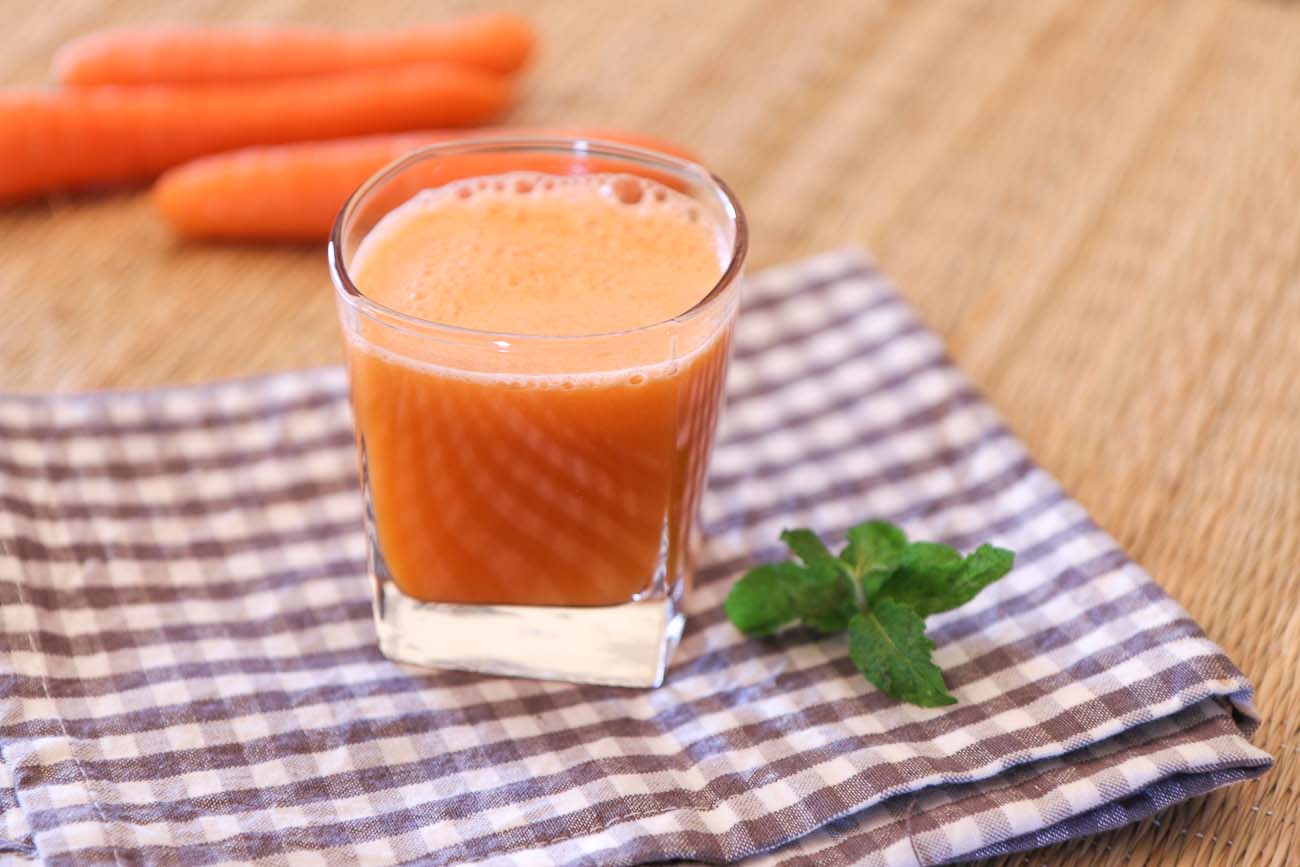 6) Goji Berries Orange Smoothie
Small but mighty — that's the term best describing these raisin-sized red goji berries, where you can easily find them at most Chinese health stores and TCM (traditional Chinese medicine) shops. They are good for your eyes (those who often spend long hours in front of the laptop might want to take note), as well as promote healthy skin and boost the immune system. While you can enjoy goji berries by simply adding a handful of them into hot or warm drinking water, how about blending them into a smoothie for a change? Here's what you need to do: Add a tablespoon of goji berries with freshly-squeezed orange juice for that extra boost of vitamin C. Combine freshly-grated ginger as well and blend until smooth.
7) Lemon Turmeric Smoothie
Made suitable for regulating bowel movement while promoting digestive health, this zesty smoothie combo is easy to make at home. You just need a freshly-squeezed lemon, 1/2 tablespoon of ground turmeric, freshly-grated ginger and one tablespoon of honey to help balance the tanginess of the smoothie. Combine all the ingredients in the blender and blend until smooth.
8) Mango Green Smoothie
Just like the bright yellow oval fruit itself, mangoes are also bright (no pun intended) in vitamins, fiber, folate and antioxidants. They taste great on their own or incorporated into ice cream, juice and of course, smoothies. For the latter, consider mixing mango with leafy greens like spinach — another superfood booster known for its anti-cancerous properties. You can either use fresh or frozen mango for this recipe and add in almond milk or plain/Greek yogurt to give your smoothie an extra creamy texture. Blend until smooth.
9) Pineapple Cucumber Smoothie
Sure, this ultra-hydrating green fruit is generally tasteless on its own but it definitely works wonders when it comes to smoothies. Here, you can consider adding in some sliced cucumber into the blender with fresh or frozen pineapple cubes, almond/coconut milk and freshly-squeezed lime juice. Blend until smooth. Alternatively, you can also substitute the pineapple with spinach and you still reap the same health benefits.
10) Blueberry Kale Smoothie
Both blueberries and kale contain high levels of antioxidants, which help neutralise free radicals in the body. Which is why combining these two superfruits into a smoothie sounds like a great idea. Simply combine 2 cups of frozen blueberries and a handful of fresh kale leaves into the blender (remember to remove the stems). Then, follow up with a cup of almond milk or plain yogurt and one tablespoon of chia seeds (optional). Blend until smooth.