The bedroom is probably everyone's favourite place in the house; I mean, who doesn't love their bedroom?! Besides being the place you sleep in, your bedroom is also your private retreat where you can laugh, cry, or literally just do whatever you want in peace. If you feel like your bedroom is lacking something, and can be more comfy, we're here to help! Presenting to you 10 simple ideas for a comfy bedroom makeover!
---
1) Dim the lights… here we go!
No, we're not asking you to watch American Idol (or any other singing show) in your bedroom. All you have to do is switch your bright, white lights for soft, yellow lights. An orange-y glow is easier on your eyes, and will help you fall into sleep mode easier. If changing all your lightbulbs is too much work, you can always invest in a bedside lamp!
2) Electronics are strictly prohibited
Did you raise your eyebrows at that? With technology infiltrating our lives so deeply and rapidly, the least we can do is take a break from it, and enjoy some time doing something else, especially right before bed time. Screen time before sleep will affect the quality of sleep, so try not to use electronic devices in your bedroom.
3) Strategise with your furniture
If your bedroom is large enough to have some furniture, here are some tips to make it more comfy. Create a cosy corner by placing a chair (I personally really love armchairs) right in a corner, so you can curl up there. Or, you can place chairs facing each other, which will create a conversational, intimate vibe, even if the bedroom only belongs to you.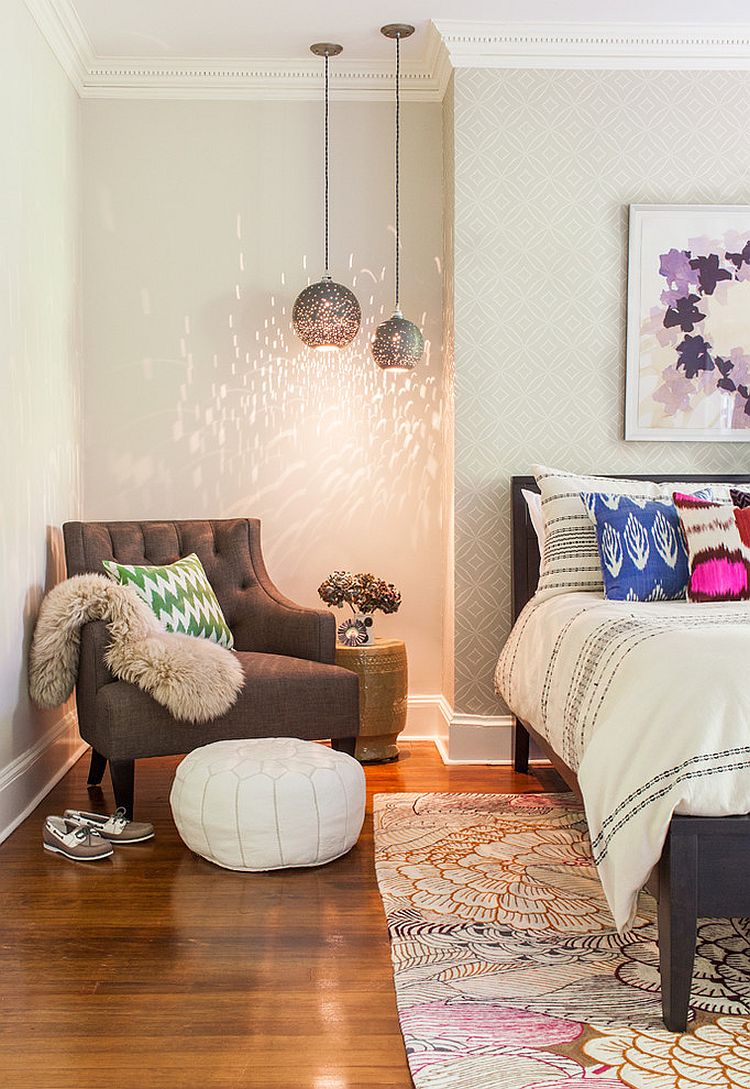 4) It's all about the rugs and pillows
You don't have to carpet up your whole room, but just place a fluffy rug right at the place where your feet will hit the floor when you wake up. There's just something comforting about stepping into a pile of softness the first thing in the morning. Also, mix and match your pillows to create the ultimate nest. A mound of pillows are great for sinking into, even if you don't use them to sleep.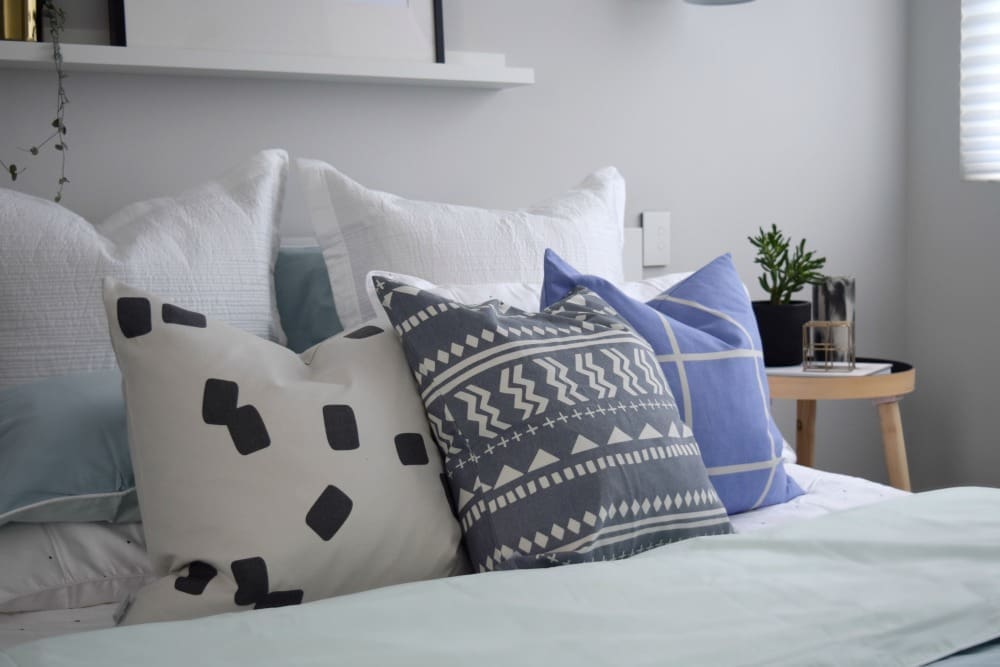 5) Administer some aromatherapy
Certain scents can help you feel relaxed, so why not try it out? Personally, I love using lavender-scented essential oil with a plain candle instead of scented candles, but hey, whatever that floats your boat! Otherwise, you can consider diffusers or even sleep sprays. There's nothing like your favourite scent taking you to dreamland.
6) Experiment, but keep the colour scheme constant
Translation: go crazy with the patterns and textures (floral, herringbone, lines, tiles…), but pick a colour scheme, and stay within that colour scheme. Even I know my mind won't rest if my bedroom is a riot of different colours, patterns, textures, and accents. It's best to choose neutral, pastel or calm colours for your bedroom, rather than bold, bright colours.
7) Blackout
Your body responds to light, and a total blackout is most conducive for a good night's sleep. All you have to do is invest in heavy, blackout curtains to block out all the lights streaming in from your window. Okay, if you're afraid of the dark and require a little light to fall asleep comfortably, you can invest in a dimmable bedside lamp. And turn it down low.
8) Get A Fleece Blanket!
Yes, I'm aware we live in a tropical region where it's always hot. But fleece blankets are just so comfy! I'd wrap myself up like a burrito in a fleece blanket and stay there all day if I could, because it's so soft! So silky! So comfy! Well, to fully enjoy the blanket, you can always adjust your A/C to the lowest temperature with the strongest airflow…
9) Whitewash
Not into colour? No problem. Simply deck out your entire bedroom in shades of white. Contrary to popular belief, whitewashing your bedroom will not make it boring, if you know how to play with the hues, textures and patterns. Cream, moonlight, ivory, eggshell, vanilla, pearl, porcelain, icy… All those words conjured different images, right? Use your imagination!
10) Inject your personality!
Last but not least, add some personal touches to make your bedroom truly "you"! It's your bedroom, and you should let your personality shine through. A few ideas include having your favourite poster up, a framed motivational message, some vintage items for an old-timey feel, or hanging a string of fairy lights and some photos. The possibilities are endless!
With that, good night and sweet dreams!
---
https://www.facebook.com/tallypressmy/