Open up the gates, break free of your enclosures! We can now travel locally again, and *breathes in deeply* enjoy the air outside! (Okay not really since the pandemic is still around, but you get what we mean.) Many people have been scrambling to book flights and stays nationwide, so here we have a couple to recommend as well, on Airbnb. Whether you're looking forward to a intimate family getaway or finally embark on that friend trip planned a thousand years ago, we have you covered with these Airbnbs in Malaysia!
---
Property Type: Entire house/villa
Occupancy: 10 pax
Located in Kuala Kubu Bahru, Sky Villa and Woodhouse are separate properties, though both managed by IO Home. Whichever you decide to stay at, it's accessible to the town nearby if you feel like venturing out, and offers plenty of recreational activities. Visit Chiling Waterfall, zipline, explore nature… the best part for both stays however, is probably its private pool, perfect to cool off with Malaysia's weather. They are on top of a hill which offers breathtaking scenery as well, so really, come up here and enjoy the view, breeze and pool!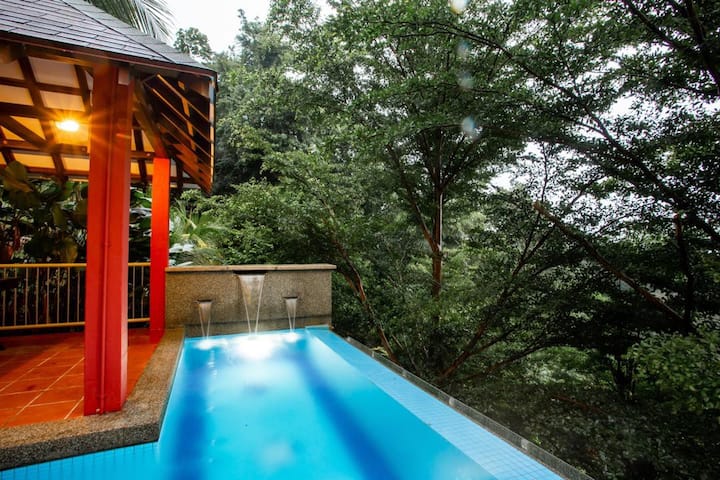 Property Type: Entire serviced apartment
Occupancy: 4 pax
Craving for a little "Vitamin Sea" but still want to avoid large crowds? Why not give this spot in Kuantan a go? Besides being by the sea, it also has several pool types suitable for kids and adults alike. Wake up to the sound of waves crashing each morning, take long strolls on the beach, and have a newfound appreciation for the sea and for life! There are also a couple of different courts here, if you're sporty and would love to play some games.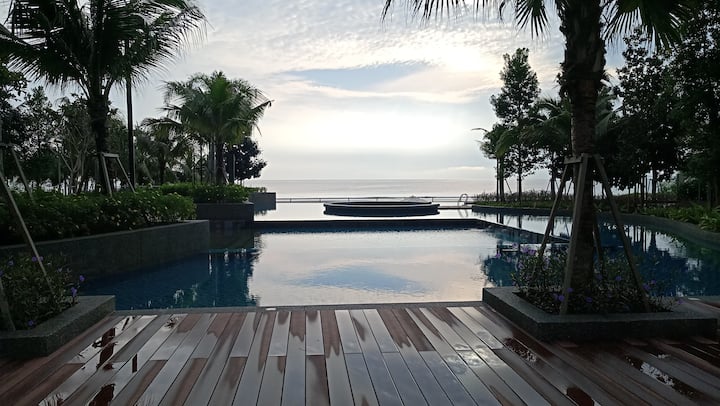 Property Type: Entire house
Occupancy: 8 guests
Fancy an island getaway? Well then relax at The Resthouse on Pulau Perhentian Besar! The Resthouse is a wooden house by the sea all on its own, and the hosts go out of their way to be as environmental-friendly as possible, and they encourage you to do the same. Majority of the proceeds from The Resthouse go to their conservation project–Lang Tengah Turtle Watch–on a neighbouring island. In fact, you can visit the project to see how your stay is contributing to the conservation of these majestic creatures.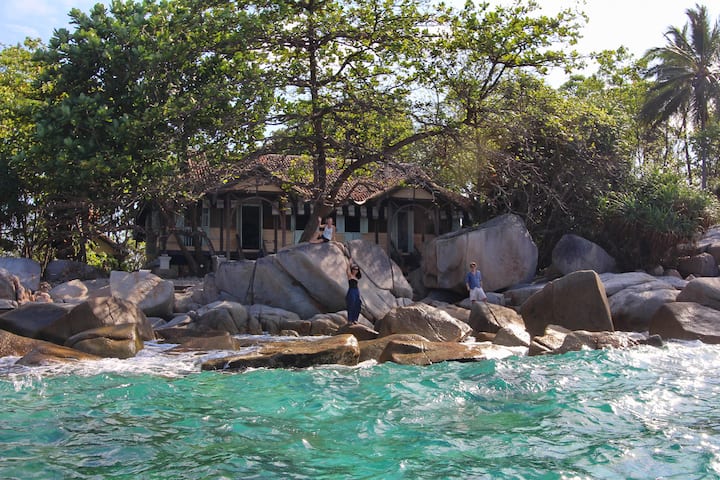 Property Type: Entire house
Occupancy: 8 pax
Nature and hiking lovers can head over to this stay in Sarawak, where you have to hike for a bit to reach your destination. Once you're there, it's like a perfect paradise, and all will be worth it. It is completely surrounded by the jungle, so this is the place to go if you love surrounded by nature. However, if you're not ready to be cut off from the world completely, there's still internet service there, which is best for Maxis and Digi users since their towers are close enough.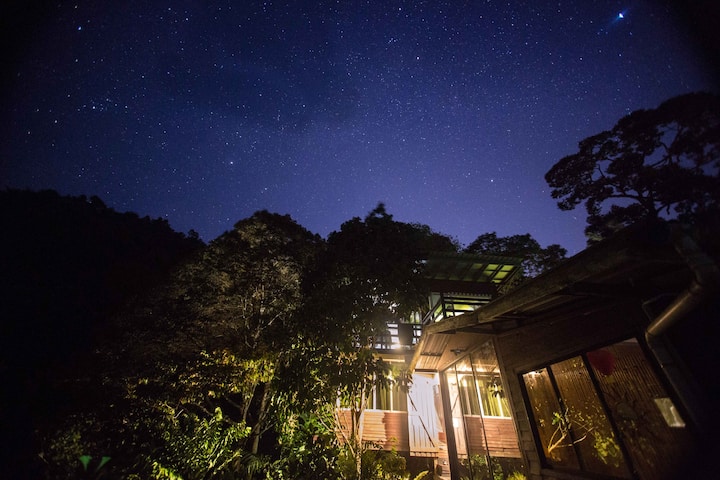 Property Type: Entire House
Occupancy: 7 pax
Ever wondered what it would be like to live in Malacca, right by the river? Check out Vista Rio Melaka! A spacious 2-storey house with 3 bedrooms, Vista Rio overlooks the Malacca River, and is a mere 3-minute walk away to the famous Jonker Walk. As such, it's at the heart of all local activity! Various dining options are all close by, and other landmarks and attractions are within walking distance as well! If nothing else, hang out on the balcony and watch the river flow.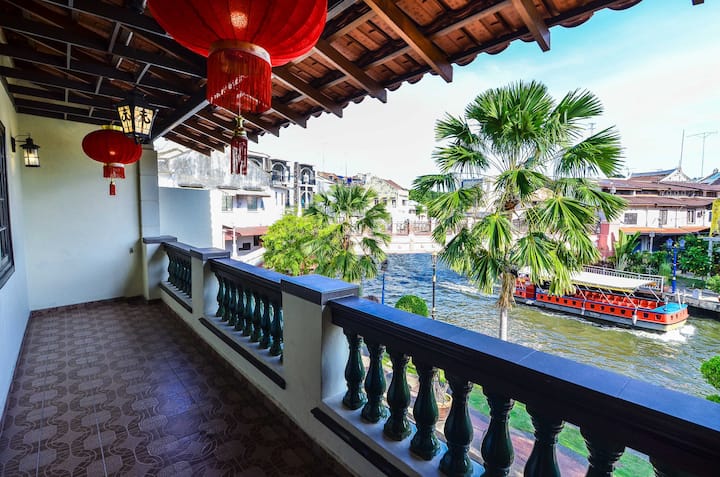 Property Type: Entire Apartment
Occupancy: 8 pax
The name says it all: stay here, and be treated to a splendid view of the tea plantations of Cameron Valley Tea House. After all, this place is just opposite the tea house. Tea lovers can pop over to the plantation as early as 8 am to enjoy the morning breeze while sipping on tea, and all other attractions are nearby. It's a little removed from the crowded town area, so those seeking peace and quiet would find this place very much enjoyable.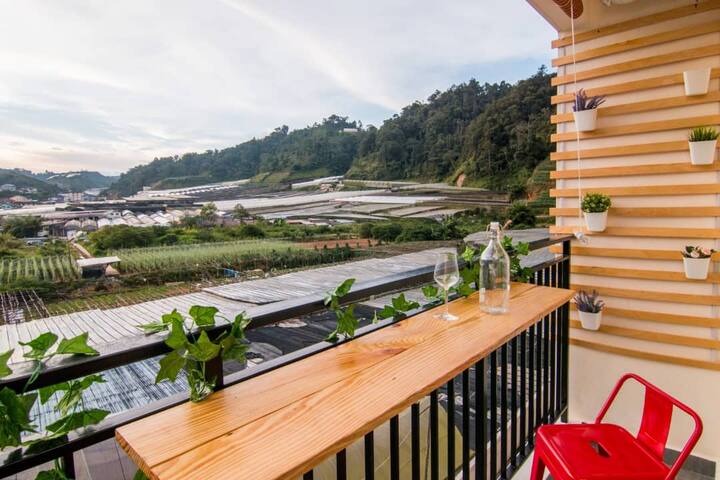 Property Type: Entire House
Occupancy: 12 pax
If you're looking for a change of scenery with nothing too remote yet not too crowded, this could be it for you! It's cool and surrounded by lush greenery, yet in a gated and guarded area, so that's an extra safety feature. There's a full-equipped kitchen here, so you may do your own cooking during your stay. This villa also won gold at the PAM Awards 2017 for Building of The Year, and many guests were in awe of its architecture and interior!
Property Type: Entire Loft
Occupancy: 7 pax
A luxurious duplex apartment with super high ceiling and floor-to-ceiling windows, this apartment offers you a gorgeous panoramic view of Georgetown and the harbour. There's also a gym and swimming pool available, and plenty of eateries, shops and services are within walking distance. The interior is decked out comfortably, and even though it's a little further from the city centre, you can always Grab, or drive if you have your own vehicle.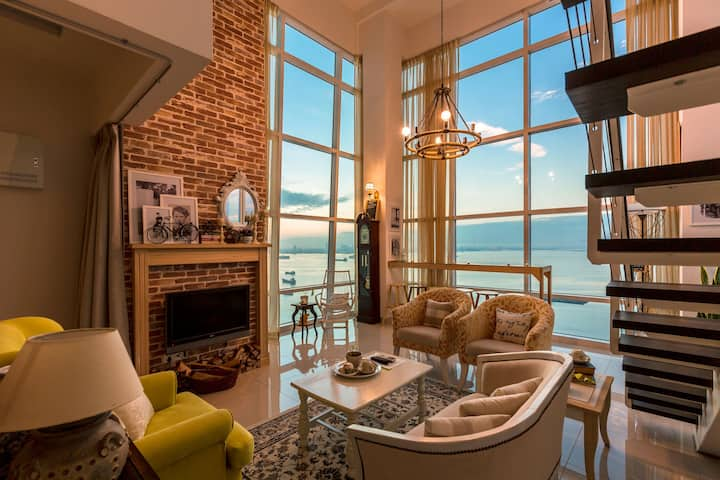 Property Type: Entire Chalet
Occupancy: 4 pax
Experience the best of Borneo with this beach retreat! Exclusive and private, here you can soak up the relaxing ambience of the beautiful beach and view of the South China Sea. You can also go swimming, snorkelling, jungle trekking, mountain biking and mangrove touring, but the host recommends that you be back on time to enjoy the spectacular sunset! All in all, perfect for couples or small families who would really love to spend some uninterrupted time to bond!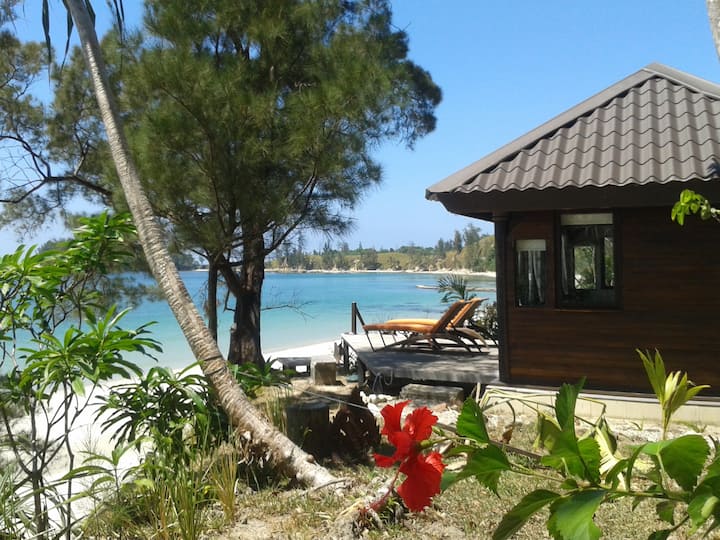 Property Type: Entire House
Occupancy: 16+ pax
With stunning 360° views of the Kanching Rainforest Reserve, you'd feel like you've entered some ethereal land far away from the city, but in reality it's actually just about 30 minutes drive away from KL. At this retreat, there's a swimming pool, hammocks, an outdoor kitchen & BBQ, with decks facing the majestic Bukit Takun & golf course. Some reviews state that the pictures don't do it justice, so you'll have to check it out for yourself!
While you're at it, it doesn't hurt to be cautious! One of the essentials to bring along for your trip is definitely alcohol wipes from Alcosm, who's currently running a promotion. Use the code STAYSAFEMY, and get RM20 off a minimum purchase of RM100! Stay safe while holidaying!