By now, subscribing to a streaming service has become a norm for most people. Each of them has its own advantages and the same can be said with Viu, with it catering to Asian movies and series, with the latter particularly popular for their K-drama varieties ("A World of Married Couple" is one of them). But let's talk about the movies instead. Starting from as low as RM 10 a month for Viu Premium, here are the 10 Recommended Asian Movies To Stream On Viu.
---
In 2019, this is the movie that took the world by storm. It made cinematic history as the first South Korean film to win the coveted Palme d'Or at Cannes. And if that's not enough, it even bagged four Oscar wins including the historic Best Picture.
Part of the movie's huge success lies in how Bong Joon-Ho subverts expectation with his sleight-of-hand direction. He also successfully weaves his story inside out with a seamless mix of drama, comedy and psychological thriller. Coupled with solid acting all around and a topical subject matter about class divides, no wonder "Parasite" ended up as among the most talked-about movies in recent history.
While our local cinemas are currently showing reruns of "Train to Busan" at a fraction of the usual ticket price, not everyone feels comfortable sitting in the dark hall for two hours. More so given the ongoing COVID-19 pandemic still ongoing! Thankfully, for those who still feel sceptical of making their trip to the cinema, there's always Viu you can count on.
By now, this groundbreaking South Korean zombie-horror needs no introduction. The movie's combination of zombies invading the moving train as well as thought-provoking sociopolitical subtexts make "Train to Busan" all the more thrilling to watch!
Although Hollywood sits on top of the list when it comes to disaster films, South Korea is no slouch either. This includes the likes of "Tidal Wave" (2009), "The Tower" (2012) and "Pandora" (2016). And late last year, we had "Ashfall", a big-budget disaster film that features a star-studded cast including Ha Jung-Woo and Lee Byung-Hun.
"Ashfall" doesn't bring anything new here, particularly if you are familiar with the disaster-film tropes. But it does, however, knows well how to bring out the best in terms of its entertainment values. The movie even adds more flavour to the otherwise straightforward disaster film with a mix of geopolitical undertones and an action-thriller element.
Can't get enough of South Korean disaster film? Here's another for you called "Exit". But unlike "Ashfall", this movie favours a more lighthearted tone by combining an element of action-comedy. "Exit" also features Im Yoon-Ah a.k.a. Yoona in the lead role, best known for her involvement as a member of Girl's Generation group. If that's not enough, the movie happens to be a huge hit in 2019. No doubt a notable accomplishment, considering this is actually the director's (Lee Sang-Guen) first feature film.
In the mood for a Hollywood-style South Korean gangster epic? You might want to check out "Gangnam Blues", which features all the usual suspects commonly found in the gangster-film tropes. Veteran director Yoo Ha — best known for "Once Upon a Time in High School" (2004) and "A Dirty Carnival" (2006) — doesn't skimp on the brutality and graphic violence too. The movie also boasts K-drama heartthrob, Lee Min-Ho in his then-first lead role in the feature film.
The "Infernal Affairs" trilogy is like a national treasure to the Hong Kong film industry. The first film itself was a milestone back then, where the high-concept "mole-in-the-police-force" storyline inspired — for better or for worse — many Hong Kong filmmakers cashing in the trend.
It famously won seven trophies at the Hong Kong Film Awards including Best Film, Best Director and Best Actor for Tony Leung Chiu-Wai. The phenomenal success of "Infernal Affairs" even reached beyond borders, going as far as to inspire Martin Scorsese to remake the eventual Oscar-winning film under the title of "The Departed" (2006).
The subsequent follow-ups, "Infernal Affairs II" and "Infernal Affairs III" , both lacked the novelty factor that made the first film such a runaway success. But both films have their respective flashes of brilliance, particularly the second film boasting a solid cast of up-and-coming actors (Shawn Yue, Edison Chen) and screen veterans (Francis Ng, Carina Lau). "Infernal Affairs II" also succeeded as an essential prequel to the first film, offering more layered storytelling equivalent of "The Godfather"-like narrative style.
So, if you (still) can't get enough of the "Infernal Affairs" trilogy, here's your chance to binge-watch all three of them on Viu.
Fans of Hong Kong cop dramas might want to check out this award-winning "Beast Cops". The movie boasts a memorable performance from Anthony Wong as a corrupted cop, who famously won Best Actor at the Hong Kong Film Awards. Interestingly enough, "Beast Cops" combines the best of both worlds — it was partly a docudrama with a dash of comedy and a gritty crime thriller on the other.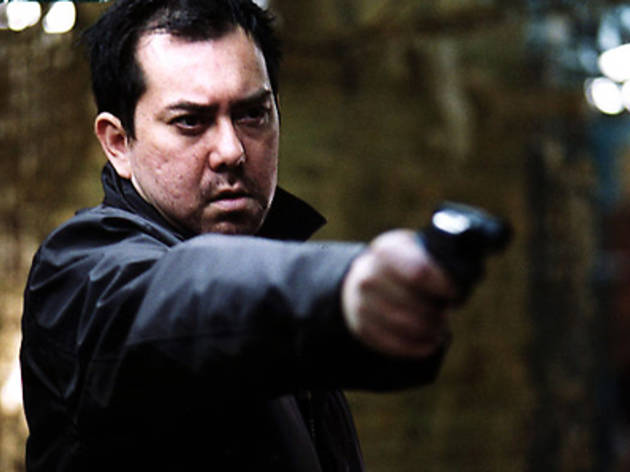 Here's a Hong Kong car-chase thriller that is light on plot but enjoyable enough for what it is. "Motorway" is essentially about two cops (Shawn Yue and Anthony Wong) trying to apprehend the getaway driver, who has amazing driving skills. The car stunts are the highlight here — all thrillingly staged with minimum CGI.
Beyond its familiar triad-film tropes lies a unique look at money, greed and human nature set in Hong Kong's financial-crisis era. "Life Without Principle" boasts a fascinating non-linear narrative style and a standout Lau Ching-Wan's HKFA (Hong Kong Film Awards)-nominated performance. A must-see for Hong Kong film fans.
A one-of-a-kind Hong Kong crime film, "Accident" focuses on a team of hitmen (led by Louis Koo) specialises in murdering targets that end up looking like an accident. No doubt a high-concept premise that you don't see every day in a Hong Kong film. The movie goes into details during the elaborate accident scenes and also features Louis Koo in a perfectly restrained performance as the head of the team.
What are you waiting for? Download Viu today and start enjoying these movies, and more!