'Tis the season to break out all things festive again, and that includes festive food! We've had precious little to celebrate (actually, let's be honest, we haven't really had much to do) all year, so you'll understand our exuberance this Christmas as we put up our Christmas tree, blast Christmas songs, and hunt down Christmas food. We've found a collection of food items that could cater to a wide variety of tastebuds, and we hope you'll enjoy this as much as we do. What's more, across these options include dine-in, takeaway, and/or delivery, so whatever you choose, there'll be something for everyone. Let's go!
---
Huckleberry's a great place for brunch, and they serve up all sorts of comfort food, pastries, and cake. During this festive time, they've come up with a whole Christmas menu and catalogue, both great for dine-in or takeaway. At time of writing, their Christmas menu is backdated to November, so we're not 100% sure if their Christmas menu is still the same, but the Christmas treats you can buy home on their catalogue? Mm. There are cheese boards, Yule log cakes, spiced pumpkin and ginger soup, roasted turkey with sage and thyme, myriad Christmas cookies and cupcakes…
Dine-in: ✅
Takeaway/Delivery: ✅
Christmas Menu | Christmas Catalogue
Nobu KL might not be the first place you think of when the words "Christmas menu" are mentioned, but rest assured they have something for you this festive season as well! Kicking things off is their Set Menu for Two, available till 23rd December from Sundays to Thursdays. Looking forward to oysters, salmon, Alaskan crab, wagyu, and a Yuzu Peach Sorbet on the side of Almond Green Tea dessert among other things. Come Christmas Eve and Christmas Day, look forward to their "6 Plates of Christmas" menu, and then follow up with their New Year menu as well. Simply pick your time to go, thanks to their triple December specials!
Dine-in: ✅
A neighbourhood restaurant that believes that warm hospitality and good food should be shared, Table & Apron is ready for Christmas. Whether you choose to celebrate at home with their food, or sample their food by dining in, Table & Apron got you covered. Their items for purchase include ready-to-cook and ready-to-eat items, available for pick up at their shop. Which means that you can cook without needing to think of and actually source for the ingredients yourself, or simply buy yourself a hearty Christmas meal and that's that. For those who opt to dine-in, look forward to cold cuts, hearty stews, weekend roasts, and desserts.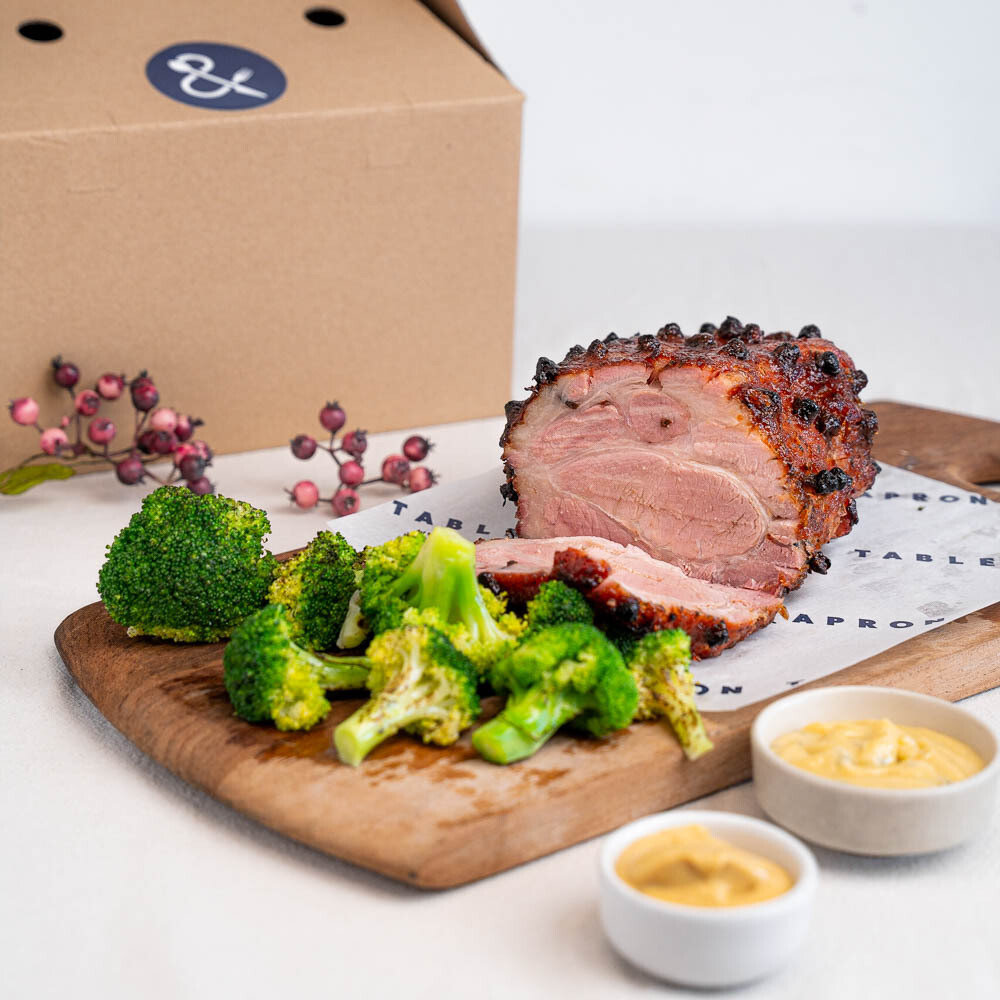 Dine-in: ✅
Takeaway (ready-to-cook/ready-to-eat): ✅
There's a mish-mash of items available at AT Private Kitchen, but their roasted pork is arguably their signature product. Choose from flat roasted pork or rolled roasted pork with stuffing, and as a December special, get two extra tubs of Reine De Dijon Mustard with every order of 1 kg. You might say that roasted pork is more CNY, but we say that roasted pork is food good for all seasons! (Also, when you take a look at their roasted pork pics, it's going to be very hard to say no.)
Delivery: ✅
Botanica+Co's Christmas menu is named "A Christmas to Remember", and they have everything from appetisers to mains, beverages to desserts. There's Roasted Chestnut Soup, a Roast Platter to share, Leek and Potato Pie for the vegetarians, gingerbread creations in the drinks and dessert, as well as Santa's Night Cap which contains alcohol. You can also choose to get Christmas items delivered, including Chestnut Log Cake, Gingerbread Chiffon Cake, as well as Christmas cookies among other things.
Dine-in: ✅
Delivery: ✅
A Christmas to Remember | Order 
Sherissa is a home-based baker, and her specialty is tarts. I'll be real; where you guys are about 60% water, I'm 60% Sherissa's tarts–I ordered a tonne of them this year (try her assorted mini tarts, I recommend mixed fruit if you want to play it safe, kaya butter toast if you're adventurous). Best of all, there are always seasonal/festive treats to look forward to, and this Christmas, you can order her Jolly Tart box, which includes four new Christmas-inspired flavours. The flavours are Lemon Calamansi Meringue, Spiced Chai Chocolate, Pecan Rum (alcoholic), and Strawberry Cheese. Simply DM Sherissa's Patisserie to place your orders!
Delivery: ✅
Sapore is an Italian, Spanish-Mediterranean Restaurant located in Ampang, and they too, are joining in Christmas celebrations with their Christmas menu fit for a king. Check out their Sapore Festive Holiday Feast package, as well as their special festive Aperitivo menu. Available till 3rd January 2022, their Christmas menu consists of roasted turkey, pork belly roulade, roasted lamb legs, fruit cake, and Christmas Yule log among other things. Don't forget their Aperitivo menu as well, exclusively available on NYE and New Year's Day only!
Dine-in: ✅
Takeaway: ✅
Does Vogue sound familiar? If you thought about the fashion magazine Vogue first, then you've made the connection. Vogue Lounge KL is a sophisticated dining, lounge, and rooftop bar, and this Christmas they invite you to take in the views of the city while celebrating the festive season. Their Christmas menu is available only on Christmas Eve and Christmas Day, though on the weekends all December you can sample their festive afternoon tea. After Christmas, you can also look forward to their New Year's Eve Gala Dinner, or check out their Sunday Roast brunch on New Year's Day.
Dine-in: ✅
A traditional French restaurant located in Bangsar, Chez Gaston offers a "Christmas Feeling" degustation menu, available till 31st December 2021. A 5-course menu, some of the items you can look forward to include Homemade Ikory smoked Tasmanian Atlantic salmon with cream cheese and mascarpone, Panfried Angus Beef tenderloin with truffle mash potatoes and reduction sauce, Half Baked Sabah Lobster with basil white sauce and sauteed potatoes, as well as hazelnut creme brulee. They also have a takeaway/delivery menu available from Christmas Eve to New Year's Eve, so check out their Facebook page for more info!
Dine-in: ✅
Takeaway/Delivery: ✅
Finally, a sweet treat to wrap it all up! CDLC is a local ice-cream company focusing on artisanal ice cream and petits gâteaux, known for their adorable creations that sometimes look too good to be eaten. They're back at it this Christmas with four new Christmas-inspired creations, named Star, Boo, Snowball, and Pin, all of which are animal creations. Visit any CDLC outlet to try out any one (or all!) of them, or order a box to celebrate Christmas at home–your choice!
Dine-in: ✅
Takeaway/Delivery: ✅
We have nothing else left to say, except: Merry Christmas! 🎄☃️