If there's one thing about Taiwan that you can't afford to miss, it's definitely food. Or more accurately, street food. You can easily find them everywhere from night markets to street vendors. And if you are a first-timer to Taiwan, here are 10 must-try street foods in alphabetical order that should be on your checklist.
---
1) Beef Noodle Soup
Succulent beef chunks, thick chewy noodles and piping-hot aromatic beefy broth… what's not to like about this famous comfort food? Savour a bowl of this in recommended eateries like Yong Kang in Jinshan South Road, Lin Dong Fang in Bade Road and Lao Shan Dong in Xining South Road at Wanhua District.
2) Black Pepper Pork Bun
Most of us are familiar with popular black pepper dishes like stir-fry beef, lamb chop and chicken chop. But black pepper pork bun? The pork filling is basically seasoned with black pepper as well as other local spices and spring onions. The filling is then stuffed into freshly-made buns and topped with a sprinkle of sesame seeds. The bun is finally oven-baked until crisp. You can get this popular street snack in Raohe Night Market.
3) Braised Pork Rice
It may look like a simple rice meal — braised pork meat, steamed white rice, soy sauce egg and blanched/pickled vegetables — but braised pork rice or lu rou fan in Mandarin happens to be one of the most popular street foods in Taiwan. The main reason lies with the tender pork meat itself, which is braised to savoury goodness using ingredients like soy sauce and Shaoxing rice wine. You can find this tummy-licious comfort food in recommended places such as Huang Ji Braised Pork Rice in Zhongshan North Road and Jin Feng Braised Pork Rice in Roosevelt Road at Zhongzheng District.
4) Bubble Tea
This is the country that introduced the birth of bubble tea, which famously took the world by storm — particularly most parts of Southeast Asia — back in the 1990s. Here's a little history about this popular iced flavoured tea: It all began in the early '80s where Liu Han-Chieh, the founder of Taichung's Chun Shui Tang teahouse came up with an idea of concocting a cold flavoured milk tea. He added ingredients like tapioca balls, syrup and fruit and bubble tea was eventually born. Some of the recommended places to enjoy bubble tea including the birthplace of the drink itself at Chun Shui Tang as well as others like 50 Lan, Comebuy and Chen San Ding.
5) Fried Chicken Steak
Every country has their own version of fried chicken, and Taiwan is no exception. Among their most popular type of fried chicken is a large fillet reminiscent of a steak. This chicken fillet is seasoned and later coated with sweet potato flour, before deep-fried to crisp perfection. You can get this deep-fried goodness in popular areas such as Shilin Night Market in Taipei.
6) Gua Bao
Gua Bao is like a Taiwanese version of a hamburger. It is a street snack filled with stewed pork belly, cilantro and crushed peanuts sandwiched in a steamed bun. You can get this in Lan Jia Gua Bao in Roosevelt Road at Zhongzheng District.
7) Mee Sua
Mee sua is a simple noodle dish that only comes with few ingredients: wheat vermicelli, oyster pieces, pork intestines, coriander leaves and umami-flavoured broth using bonito flakes. You can enjoy a bowl of this tummy-warming dish in Chen Ji in Section 3 Heping West Road at Wanhua District and Ay-Chung Flour Rice Noodles in Ximending.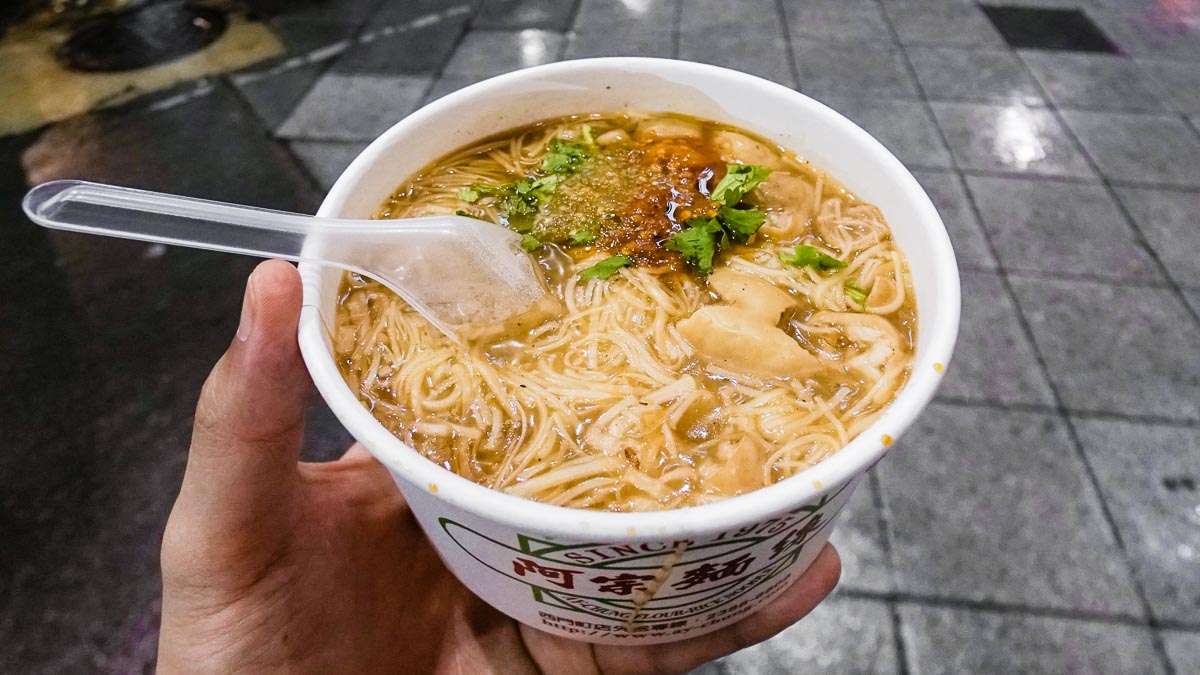 8) Oyster Omelette
Can't get enough of oyster? Here's another one for you. The oyster omelette consists of a fried egg omelette filled with juicy oysters. The omelette itself is typically mixed with sweet potato starch or rice flour to achieve a thicker consistency. This dish is served with sweet red chilli sauce. Some of the recommended places to enjoy this delectable dish includes Zhong Cheng Hao in Shilin Night Market and Laiji in Ningxia Night Market.
9) Small Sausage In A Big Sausage
Imagine this as a Taiwanese version of a hot dog. The biggest difference here is the glutinous rice shaped like a hot dog bun, hence the name of "big sausage". The small pork sausage is wrapped in the glutinous rice-shaped hot dog bun and grilled using charcoal fire. This popular street snack, which can be found in Taichung's Feng Jia Night Market, is typically served with toppings like pickled vegetables and garlic.
10) Stinky Tofu
Stinky tofu is clearly not for everyone. The foul, pungent odour is particularly a turn-off if you can't stand the smell. But if you are adventurous enough, stinky tofu is actually worth a try. Besides, did you know that stinky tofu is considered a national treasure in Taiwan? You can get this popular street snack in various night markets around Taipei.
---
https://www.facebook.com/tallypressmy/