Let's face it, earning a monthly paycheck alone isn't enough to cover the average cost of living in Malaysia. This is also true if you want to live a comfortable lifestyle. Which is why the best thing you can do is to earn some extra cash through passive income. Lucky for you, it's not that hard since you can easily make money using mobile apps. Here are 10 of them to get you started!
---
1) 8coin
Formerly known as 8Share, 8coin works by rewarding the users with the likes of cash, vouchers, coupons and mobile gadgets. All you need to do is download the app here and here for free, sign-in and share sponsored content a.k.a. "Specials" listed in the app on your social media account. You can even get rewarded by getting your friends to join as well.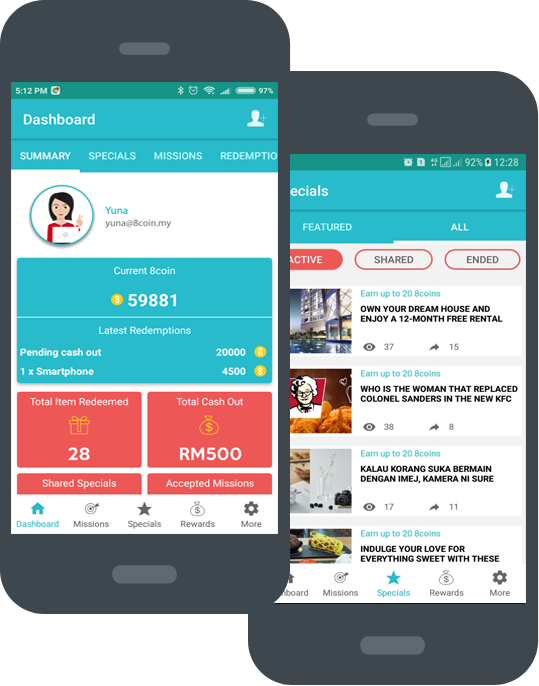 2) CashMe
CashMe is more than a mobile app to earn cashback through spending. Whatever that you have spent from the participating merchant(s) will be partially donated to CashMe's charity partners. Basically, you are also doing good deeds by helping those who are underprivileged. Download the app right here and here.
3) GigaGigs
If you think performing tasks like snapping photos of a certain product you have bought or answering surveys are a waste of time, think again. GigaGigs actually made these so-called measly tasks into a money-making opportunity. You just need to download the app via App Store or Google Play, pick the available task and complete it. You will be rewarded once you are done and everything is verified. Here's the thing about GigaGigs: the more you take on, the more you will earn, possibly up to four figures a month.
4) MatDespatch
Gone are the days where you need to join a company to become a despatch. Now, you can easily become one if you own vehicles like car, motorcycle or lorry and have a valid driver's license. Your job is plain and simple: pick up items like documents, packages or food and deliver them to designated offices or homes. And get paid on a weekly basis. Download the app right here.
5) MOBROG
Earn a minimum RM 2 when you answer a given survey. It certainly not much but if you have free time to spare, why waste it doing nothing when you can earn some extra moolah? The objective of MOBROG is simple: the more surveys you choose to take part, the more you will earn the money. Download the app here and here and make sure you register a PayPal account for transaction purposes.
6) Moola
You don't have to be a celebrity or a social influencer to become a brand ambassador. With Moola, anyone can become a brand ambassador as long as you have a car registered under your name. It basically works by endorsing a brand that is stuck (sticker, that is) on your car and you will indirectly be promoting it whenever you are on the road. There are two ways to earn money from Moola: impressions and even referring it to your friends to become a participating driver. Download the app right here and here.
7) Moovby
Do you own an extra car that's not in use? It would be wasted if you just let it sit in your parking space. With Moovby, you can rent out your car and earn some money. All you need to do is register an account, upload all the required essentials like MyKad, driver's license, road tax and other relevant documents. Click here and here to download the Moovby app and get started!
8) Petsodia
Are you a pet lover? Thanks to Petsodia, you can cuddle, feed, baby pet-sit and… even get to earn some side income at the same time! Just sign up here and join them as one of the Petsodia members for free. Once your profile is approved by Petsodia, you can start away by doing this as a part-timer or a long-term business opportunity and earn at least RM20 a day per pet. The good news is, you can earn more by petting more than one. Download the app right here.
9) ShopBack
Why just settle for saving money by shopping online when you can earn as well? That's the perk you will get when you shop at ShopBack. Here is what you need to do: do your online shopping as usual at the selected merchants like Lazada, Fave and Zalora using the app or website. You will receive cashback for every purchase you make and start redeeming the amount from RM10 onwards. Start shopping and earn some money by downloading the app here and here.
10) Snapask
Don't let your education qualifications go to waste. Those certificates, diplomas or degrees that you have in your hand are not just restricted for regular job interviews. You can actually make extra money by tutoring a student online using the Snapask app. So, if you are an expert in subjects like English and Mathematics, this is definitely for you. Snapask can be downloaded via Google Play or App Store.
---
https://www.facebook.com/tallypressmy/