We may have our fair share of delicious and unique McDonald's desserts such as Oreo & Durian McFlurry, cendol soft serve as well as banana and taro pies. If you ever wonder what other dessert the popular fast-food chain serves in other countries, here are 10 McDonald's Desserts From Around The World!
---
1) Chio-Popcorn Caramel McFlurry (Germany)
This McFlurry, which is available in Germany, offers the best of both worlds: a whipped, soft-serve vanilla ice cream with a swirl of caramel sauce and caramel popcorn! Not only does it add some crunch to your ice cream but it also gives you a salty-sweet flavour upon every spoonful. And just so you know, the word "Chio" refers to the Netherlands-based brand that sells snacks like popcorns and chips.
2) Pumpkin Oreo McFlurry (Japan)
Did you know that McDonald's has its own Halloween-themed menu lineup? Take their 2014's limited-edition Pumpkin Oreo McFlurry, for instance. Released exclusively in Japan, this ice cream dessert combines McDonald's signature vanilla soft serve with Oreo cookie piece… and a swirl of pumpkin sauce.
3) Fairy Floss McFlurry (Singapore)
If you are wondering what is fairy floss anyway, it is actually an Australian term of UK's candy floss or US's cotton candy. It is basically a vanilla-flavoured McFlurry mixed with pink sugary syrup that is said to resemble like a strawberry-like candy floss flavour. The Fairy Floss McFlurry was released in McDonald's Singapore back in 2015.
4) Toblerone McFlurry (Denmark)
We may have chocolate McFlurrys like Milo, Hershey's and Oreo… but Toblerone? Well, you have to head to certain countries that serve a cup of McFlurry topped with Toblerone chocolate bits. Besides Denmark, it is also available in Sweden, Switzerland, Panama and Costa Rica.
5) Holiday Pie (United States)
Now, what is holiday pie anyway? According to the McDonald's US website, it is described as a "creamy smooth, vanilla custard nestled in a flaky, buttery crust glazed with sugar and topped with rainbow sprinkles". It was last available back in November 2018.
6) Lilac Sweet Potato Soft Serve In Oreo Waffle Cone (Hong Kong)
This McDonald's soft serve is made with a combination of purple sweet potato served in an Oreo waffle cone. Available in selected McDonald's locations in Hong Kong, they even add in a mini Oreo cookie on the side, making this an Instagram-worthy picture!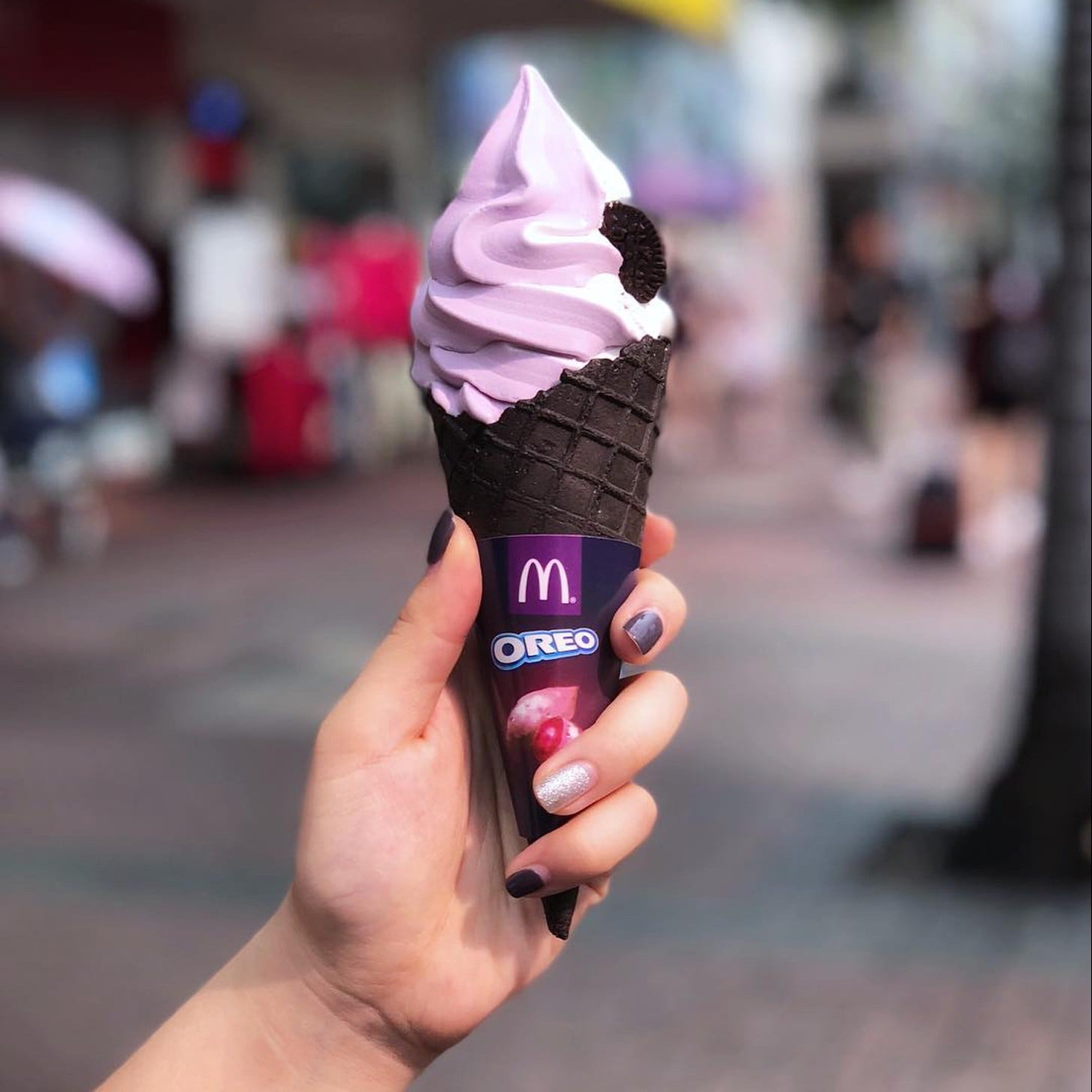 7) Dulce De Leche Soft Serve (Argentina, Brazil & Uruguay)
Dulce de leche itself is a popular caramel-like dessert in most South American countries. Which explains why McDonald's made a smart business decision of releasing their own version of dulce de leche soft serve in Argentina, Brazil and Uruguay.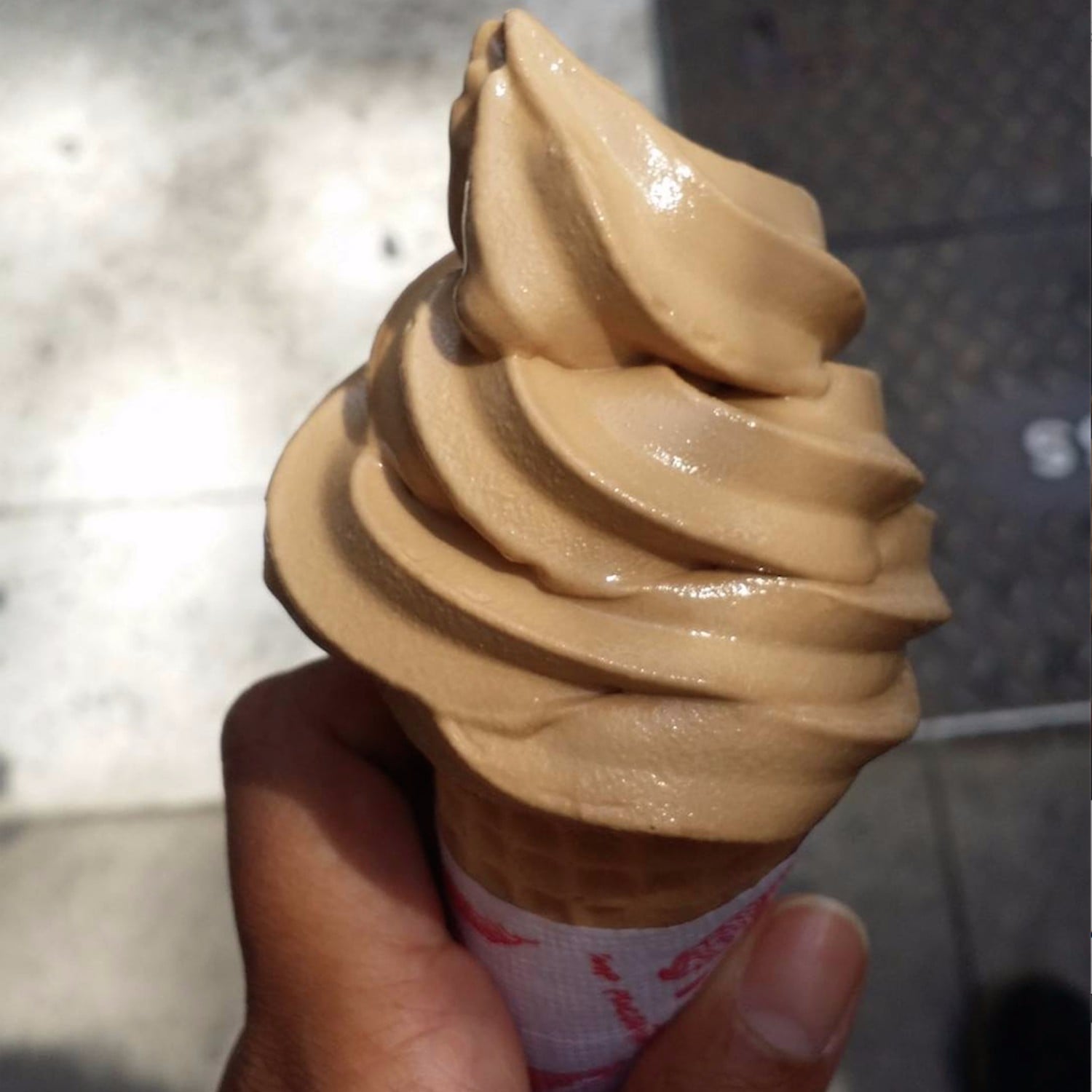 8) Stroopwafel McFlurry (Netherlands & South Florida)
Stroop-what? The name "stroopwafel" is not a brand name but actually, a type of Dutch waffle originating from Gouda, Netherlands. It consists of two thin, crispy waffles sandwiched with warm caramel syrup. This classic Dutch treat made its appearance in McDonald's Netherlands in the form of a McFlurry mixed with stroopwafel bits and caramel syrup. The Stroopwafel McFlurry was also available in South Florida back in September 2018 as part of their "Flavors from Abroad" promotion.
9) Coconut Charcoal & Strawberry Cheesecake McFlurries (Indonesia)
Those who live in Indonesia were able to taste not one, but two unique McFlurry additions. First up was their Coconut Charcoal McFlurry, which consists of vanilla soft serve and grated coconut bits. The other one was Strawberry Cheesecake McFlurry, which comes with a strawberry sauce. Both of them were available as part of their special Peanuts promotion back in January 2018.
Now, here's the thing about adding Coconut Charcoal McFlurry in their McDonald's promotion: Did you know that the late Peanuts creator Charles M. Schulz himself actually hates coconut? Apparently, he disliked it so much back in his childhood days that he reflected his hate over coconut in his Peanuts comic strip. Not sure whether the introduction of Coconut Charcoal McFlurry is meant as sarcasm or an in-joke to the Peanuts comic.
10) S'mores Pie (United States & Canada)
The traditional campfire favourite made its way into McDonald's limited-edition pie lineup back in 2012. The bad news is, their exclusive S'mores pie was only available in as according to The Daily Meal, "the borders of the United States, as well as Canada". The McDonald's edition of s'mores pie consists of two layers of chocolate and marshmallow filling wrapped in a baked graham cracker crust.
---
https://www.facebook.com/tallypressmy/