When it comes to flavouring a dish, a good sauce helps a lot. Sauces can vary from savoury and spicy to creamy and tangy, depending on your respective dishes. While you can simply buy most of the sauces in a grocery store or supermarket, why not try making them at home instead? That being said, here are 10 Essential Sauce Recipes You Can Make at Home.
---
1) BBQ Sauce
Ribs, steak, sausages and burgers… these are some of the quintessential staples that pair well with BBQ sauce. Sure, you can always head to your nearest grocery store or supermarket and purchase the store-bought variety. But homemade BBQ sauce? That's even better.
How to make it: Combine 3/4 cup of tomato sauce (ketchup), 2 tablespoons of brown sugar, 1 tablespoon of Lea & Perrins sauce, 2 tablespoons of honey (optional), 1 tablespoon of freshly-squeezed lemon juice and 2 teaspoons of paprika powder. You can also add in some cayenne pepper or hot sauce if you prefer more heat in your BBQ sauce. Whisk all the ingredients in a pan over medium heat. Once the sauce starts to bubble, reduce it to a simmer for 10 minutes.
2) Béchamel Sauce
Pronounced as "beh-shuh-mel", this classic white sauce typically contains three basic ingredients: flour, butter and milk. As simple as it may seem, béchamel sauce proves to be versatile. You can use it on lasagna or any kind of cream-based pasta/soup, gratin or white meat dishes. If that's not enough, you can even improvise the otherwise basic béchamel sauce recipe by incorporating herbs and seasonings like nutmeg, bay leaf and cayenne pepper for an added flavour.
How to make it: Melt butter in a pan, followed by stirring in an equal quantity of flour. Cook the mixture a.k.a. roux around 1-2 minutes before gradually adding in the milk. Remember to keep stirring to avoid the milk in the mixture from becoming lumpy. Bring everything to a boil as you continue to stir the mixture until it becomes thick and glossy.
3) Bolognese Sauce
No pasta dish would be complete without the good old classic bolognese sauce. It mainly consists of minced beef (you can also use chicken, pork or a combination of either two of them) and tomatoes. Popular herbs like oregano and basil are typically added into the sauce to enhance the flavour.
How to make it: Heat up a pan and add some olive oil/vegetable oil over medium-high heat. Then, add in chopped/diced onion, carrot and celery and cook until soft. Stir in together your favourite minced meat (beef always tastes the best) until it becomes browned and bring everything to a simmer. Add in a can of chopped tomatoes, some tomato paste and herbs. Bring it to a boil before reducing the heat and let it simmer for 1 hour to thicken the sauce as well as to blend all the flavours together.
Tip: To give your bolognese sauce a more complex and robust flavour, consider adding in 1/2 cup of white or red wine. Among the best ones include sauvignon blanc, merlot and pinot noir.
4) Carbonara Sauce
Here's another famous sauce synonymous with Italian pasta. The creamy texture of a carbonara sauce comes from the combination of beaten egg yolks, cheese, black pepper and pasta water. And just so you know, the authentic carbonara sauce doesn't include heavy cream into the recipe.
How to make it: Whisk together 4 egg yolks, grated Parmesan cheese and some black pepper in a mixing bowl until well-combined. Next, cook some chopped/sliced bacon in a pan over medium heat to render out the fat. That fat will be used to incorporate with the egg mixture and cooked pasta in the same pan until everything is evenly coated. To make it saucy but not watery, moist the carbonara sauce with some pasta water.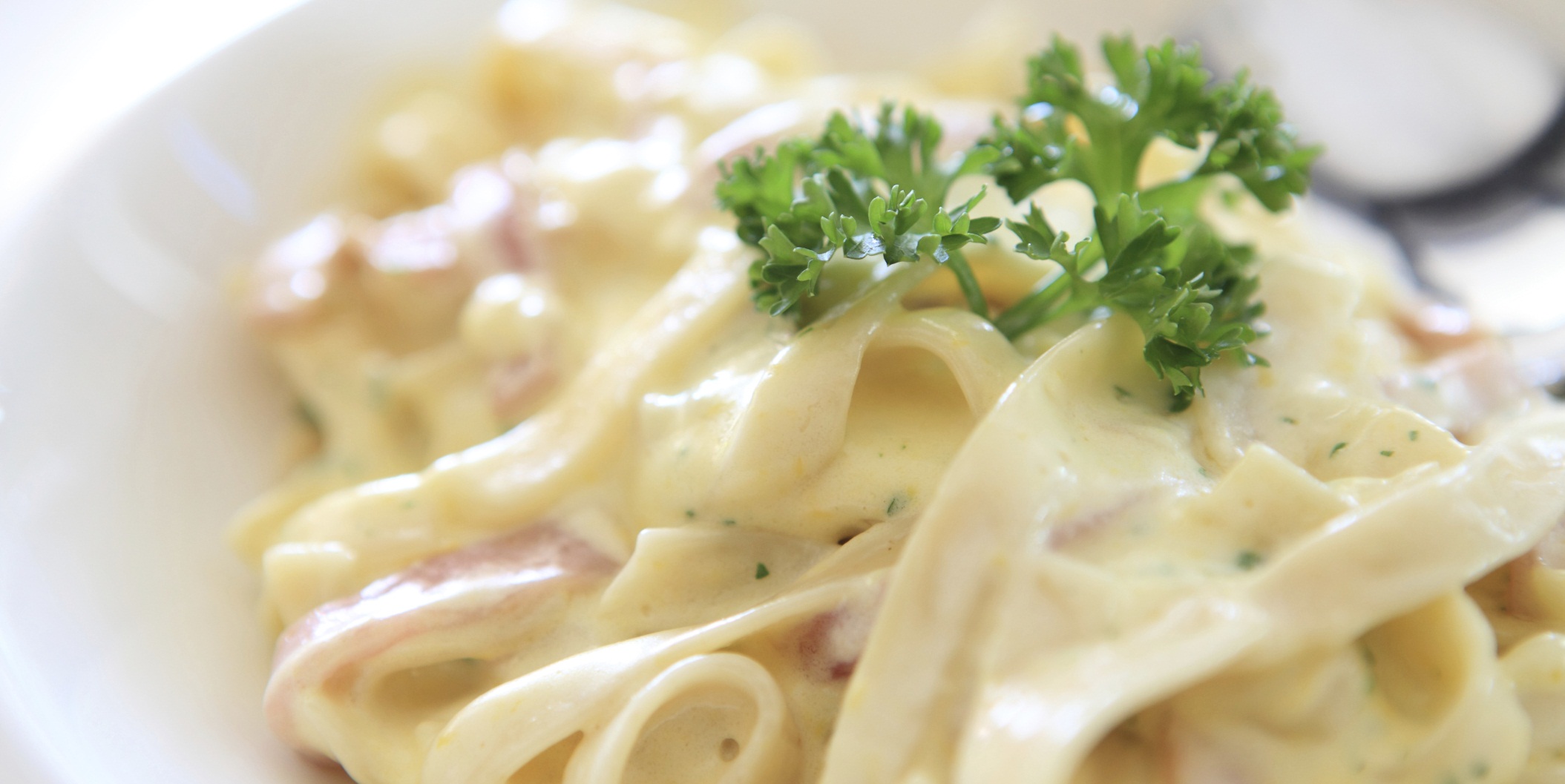 5) Espagnole
Otherwise known as brown sauce, Espagnole is typically made with beef stock, clarified butter and flour. Additional ingredients are usually added as well, notably mirepoix (a combination of diced carrots, celery and onions). Best paired with meat dishes such as chicken, beef and lamb.
How to make it: Melt the clarified butter in a pan over medium heat before adding in the mirepoix. Sauté them for a few minutes and gradually stir in the flour using a wooden spoon. Keep stirring until it becomes a roux. Lower the heat, add in the beef stock and start whisking the ingredients (this time, use a wire whisk) to prevent lumps. From there, you can choose to boost the flavour by adding tomato puree and herbs like bay leaf and thyme. Bring it to a boil before lowering the heat and let it simmer for around 45-50 minutes while stirring frequently.
6) Hollandaise Sauce
Commonly associated with eggs benedict, this buttery and tangy sauce also pairs well with asparagus, potatoes, broccoli and seafood dishes. The sauce recipe itself usually consists of three simple ingredients: egg yolks, butter and lemon juice.
How to make it: Whisk 2 egg yolks, 1/4 of freshly-squeezed lemon juice, salt and cayenne pepper in a mixing bowl until smooth. Then, place the bowl over a pan/pot or double boiler filled with simmering water and continue to whisk the mixture rapidly. Remember not to allow the egg mixture from becoming too hot because you do not want it to become scrambled. Next, gradually pour in the melted butter and keep whisking until the sauce becomes thickened.
7) Marinara Sauce
If you love all things tomato, you might want to learn how to make your own marinara sauce at home. Marinara sauce is, of course, a blend of tomato sauce enhanced with herbs and seasonings. Best paired with pasta, meatballs, pizza and sandwiches.
How to make it: Start by sautéing 1/2 of minced onion and 4 cloves of thinly sliced garlic in a pan with olive oil or butter over medium heat. Cook until they become soft before adding in some crushed red pepper flakes. Then, pour in the tomatoes (you can use freshly-chopped tomatoes or a can of whole tomatoes, gently crush them apart using a wooden spoon) and season the sauce with herbs and seasonings like oregano, basil, salt and pepper. Simmer everything for around 20 minutes.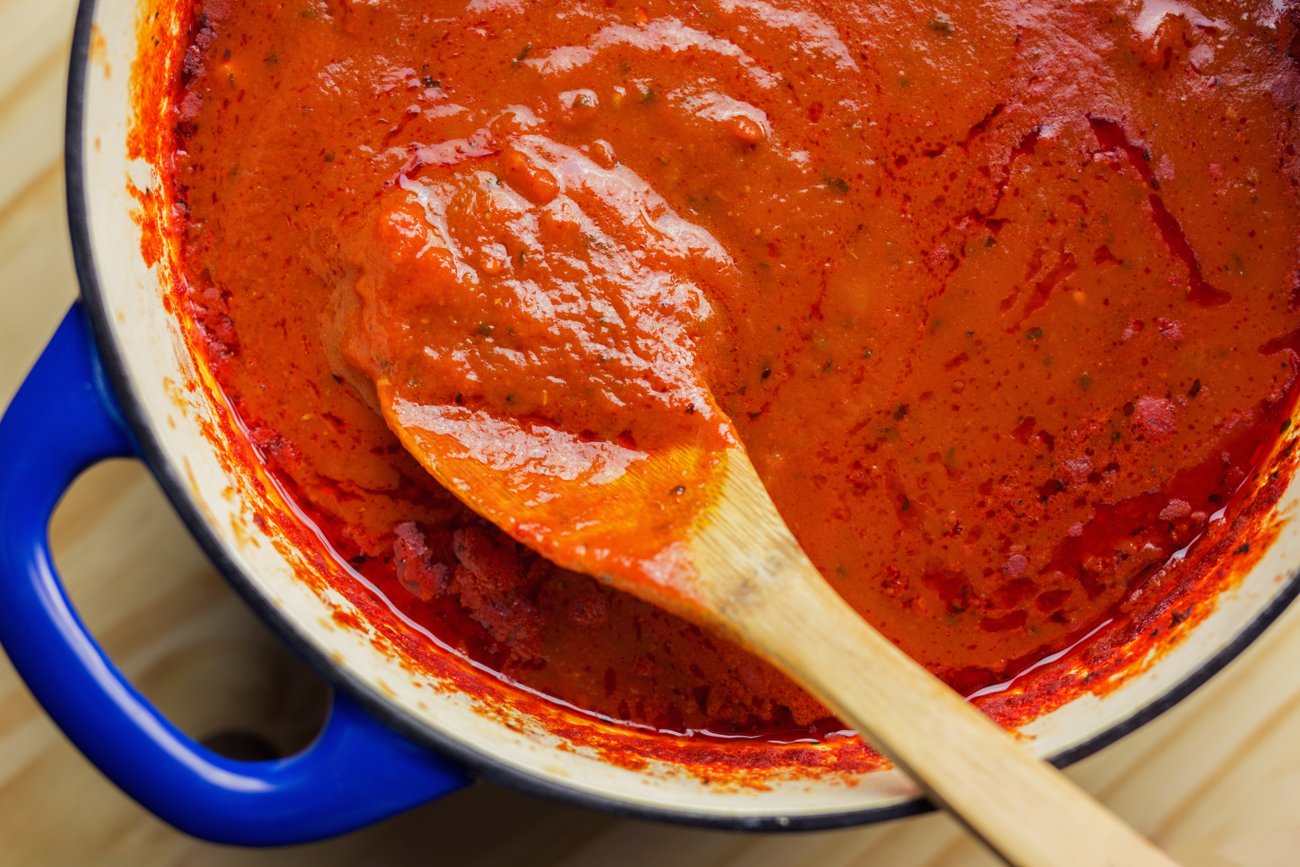 8) Mint Sauce
Great with steak, lamb chops and mushy peas, mint sauce has a refreshingly minty taste that helps to boost up your meal. It doesn't require many ingredients either to whip up your own sauce recipe at home. Just fresh mint leaves, white wine/white vinegar and sugar.
How to make it: Strip off the mint leaves and chop finely. Place the chopped mint in a bowl before adding in 1 tablespoon of white wine/white vinegar. Stir everything together until they become thick and well-combined. Finally, add in 1-2 tablespoons of sugar (either brown or white variety is fine) and stir well.
9) Mushroom Sauce
From chicken/pork chops to steak and baked potatoes, this creamy and savoury mushroom sauce is simply versatile. Making your own mushroom sauce recipe is easy too since the main ingredients typically consist of mushrooms, butter, onion, garlic, cream and thyme.
How to make it: Heat the butter and oil together in a pan before adding in some sliced mushrooms (Swiss brown varieties would be nice) and fresh/dried thyme. Season with salt and pepper and fry the mushrooms until they become golden brown. Add 2 cloves of crushed garlic and cook until fragrant. Pour a cup of cream and let it simmer for around 5-10 minutes or at least until the sauce becomes thickened.
10) Pesto
Pasta, meat, chicken, vegetables… you name it, they pair well with the distinctly green-looking sauce otherwise known as pesto. You mainly need four ingredients to make the sauce: basil, pine nuts, garlic and Parmesan cheese.
How to make it: Combine fresh basil leaves, peeled garlic, pine nuts (or chopped walnuts) and grated Parmesan cheese into a food processor. Season with salt and pepper. Gradually pour in 1/3 cup of olive oil as the food processor pulses.