It's hard to imagine to live in today's digital era without Google. Google has fundamentally changed the way we live, think and remember. While Google is no doubt a highly-resourceful search engine, there's actually more you can do with it. That said, here are 10 Cool Google Tricks You Might Not Be Aware Of!
---
1) Watch The Google Homepage Come Crashing Down
The Google homepage is plain with its boring-looking interface dominated by the white background. It even looks too peaceful sometimes? But you can change all that by shaking things up and wreaking some "havoc". All you need to do is go to the Google homepage and type "Google Gravity" in the search box. Then, hit the "I'm feeling lucky" button and watch the Google homepage literally crash down to the bottom of the web browser. You can even click on the widgets and hurl them around just for fun. Not a bad way to pass time!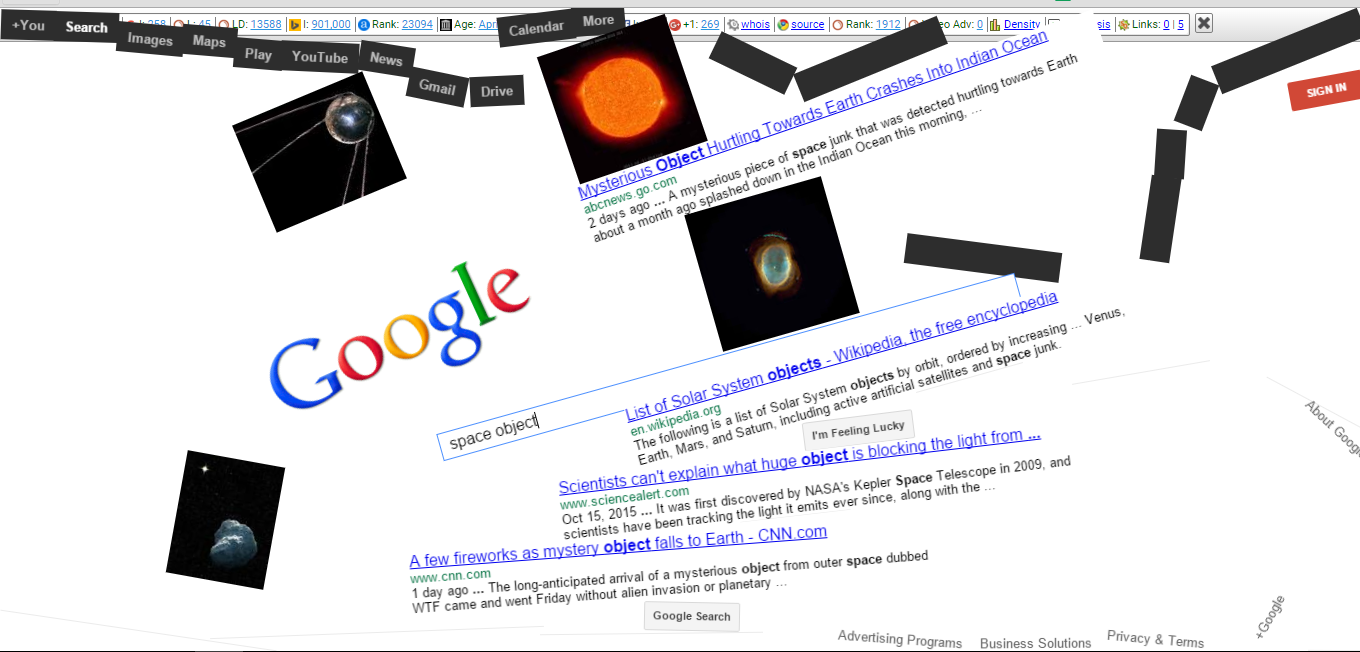 2) Do A Barrel Roll
It's just what it is, where you get to watch your Google browser window spinning at 360 degrees like a rolling barrel! Just type "do a barrel roll" on the Google homepage and hit enter.
3) Flip A Coin
Got no coin in your pocket? If you ever need to flip one for fun or to even make a decision, good old Google can help you with that. Just type "flip a coin" in the search bar window and watch the coin virtually flip itself to see whether you get heads or tails. You can also click "Flip Again".
Alternatively, type "flip a coin" on the Google homepage and hit "I'm feeling lucky". The page will then automatically redirect you to a piece of the giant grey coin with the word "HEADS" and "TAILS" on either side. Just click on it in case you need to flip the coin again.
4) See How Google Looked Like In 1998
In case you have forgotten or are just feeling a bit nostalgic, Google was founded back in 1998. And if you are wondering how their original browser looked like back in the day, you're in luck. Just type "Google in 1998" in the Google homepage and hit enter. The browser will automatically redirect you to the old Google search engine.
5) Find Out About Today's Weather Forecast
Wondering whether it's a good time to spend your day outdoors or stay in? You can check your local or even international weather with steps as easy as typing in "forecast in (enter your location)" on the Google homepage and hit enter. For instance, if you are in the KL region, you can check the weather forecast in specific city areas such as Seri Kembangan and Taman Tun Dr Ismail.
6) Use Google To Convert Currencies
Need help to convert from one currency to another? Well, thanks to Google, you have it easy by just typing in the amount of currency A to currency B and hit enter. Here's an example: RM200 to SGD.
7) Learn Some Fun Facts
In the mood for some interesting trivia? Just type "fun facts" on the Google homepage or search engine and hit enter. From there, the browser will randomly show a fun fact of almost any kind. Alternatively, you can also type "I'm feeling curious". And if you want to discover more of them, just hit "Ask Another Question".
8) Watch The Google Search Engine Invaded By Zerg
The word "zerg" actually refers to an alien race from the 1998 strategy video game "Starcraft". So, when you type in "zerg rush" on the Google homepage, you will witness a row of zeros (O) dropping down the browser window as they "eat up" the search results below.
9) Play The Classic Atari Breakout
Did you know you can play a free game on Google? Just go to Google Images and type "Atari Breakout". The browser will the change into a game browser and you get to start playing by knocking down as many bricks as possible with the bouncing grey ball using the blue rectangle wall below. "Atari Breakout" is, of course, referring to the classic arcade game of the same name back in the 70s.
10) Play A Dinosaur Game… Offline!
Think that Google Chrome only works if you are online? Well, think again because there's a cool trick where you can play a free game when you are offline. Of course, the ultimate catch is that you can only do this when you turn off your Internet connection.
So, here's how it works: Just click open your Google Chrome and you will normally see "No internet" on the browser window along with a pixelated dinosaur above. Now, hit the space bar on your PC or laptop and get ready to play the dinosaur game. The objective of the game is to avoid the dinosaur from hitting the cactus. All you need to do is press the space bar to allow the dinosaur leap over the cactus and keep doing it, depending on how long you can endure throughout the game.