Diving is gaining more and more popularity these days, and many youngsters especially are taking up diving courses! It's not difficult to see why, as the ocean is mysterious and alluring. It's also a whole different world from land, so divers can always experience novelty under the sea. Whether you're a diving expert or a beginner diver, here are 10 of the best diving spots in Malaysia for you to explore!
---
1) Sipadan Island
Often voted as the world's best diving spot, Sipadan Island is located in Sabah. It is the only oceanic island in Malaysia, and took thousands of years to form. Also claiming the title of "world's highest marine biodiversity", you will be able to spot turtles, sharks, barracuda, corals, seahorses, and a variety of other fishes here.
2) Mabul Island
A mere 20-minute boat ride away from Sipadan lies Mabul Island. Well-known as a muck diving spot, there are also many fascinating creatures to watch here. Among them are blue-ringed octopi, nudibranchs, and other fishes. If you're lucky, you might even spot a whale shark here!
3) Kapalai Island
Kapalai Island isn't actually a real island, but a sandbar that has resorts built upon it on stilts. Besides muck diving, it also provides excellent opportunities for underwater macro-photography. Not only will you be able to view marine creatures here, but there are also small wrecks here! Together with the Sipadan and Mabul Islands, they're known as the top trio or Golden Triangle of Malaysian diving spots!
4) Redang Island
Situated within the Terengganu Marine Park, Redang Island features excellent dive sites and conditions. After a long day of viewing turtles, corals, reef sharks, octopi, and fishes, you can relax on Redang's pristine beaches too! You'll never get bored at Redang, for it has over 30 dive locations for you to choose from.
5) Perhentian Islands
The Perhentian Islands are a group of islands that also belong to the Terengganu Marine Park. This cluster of islands are most suitable for diving courses or beginner divers, what with its calm waters and abundance of marine life. A wreck known as the Sugar Wreck is located here as well, perfect for underwater photography!
6) Lang Tengah Island
Translated from Malay, Lang Tengah literally means "the eagle in the middle". It is named so due to its location between Redang and Perhentian Islands. As with the other diving spots, Lang Tengah offers plenty to see such as bamboo sharks, rabbitfish and shovel-nosed rays. However, what's most interesting is that the shallow bays here make it ideal for night diving as well!
7) Lankayan Island
Back to Sabah, Lankayan Island is best known for its whale shark sightings! A remote island in the Sulu Sea, it probably has the best dive spots and conditions in Malaysia, after Sipadan. Catch green and hawksbill turtles here, and check out the wrecks and coral reefs too!
8) Dayang Island
A popular spot not only for divers but also sports-fishermen, Dayang Island is home to the black marlin. The black marlin is one of the fastest fish in the world, so you can understand why people would like to see them in the flesh! Besides the marlin, you can also spot manta rays and whale sharks among other sea creatures.
9) Layang-Layang Island
Also known as Jewel of the Borneo Banks, this island was a former marine base. Located in a remote area, the underwater world is still largely unaffected by human beings, and is home to hammerhead sharks, whale sharks, and manta rays. Coral reefs here are also still in pristine condition, and there will be big schools of fish swimming about.
10) Kapas Island
If you're more of a wreck-diver, Kapas Island is the place for you. Here, you can find a Japanese World War II shipwreck, as well as remnants of wooden boats washed up on the beach. Kapas Island is not totally devoid of life though; you'll still be able to spot reef sharks and turtles here as well!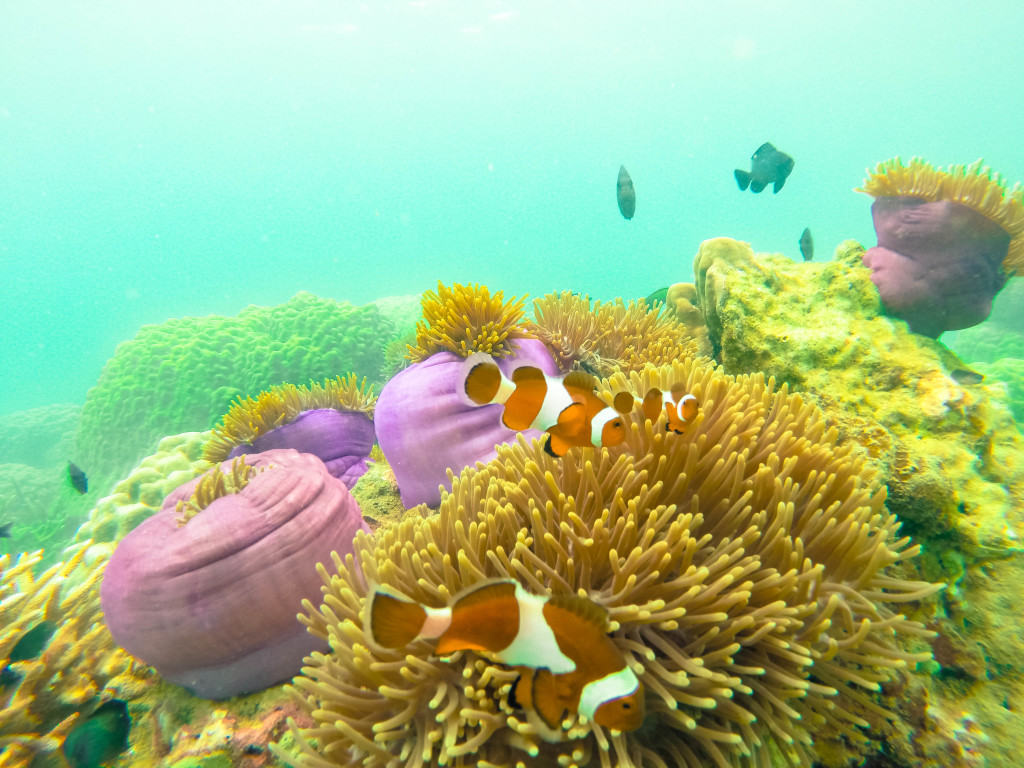 ---
https://www.facebook.com.tallypressmy/