In conjunction with Ramadhan, Renaissance Kuala Lumpur Hotel invites you to share the joy with an abundant selection of culinary delights. Inspired by the authentic, traditional local cuisine,"Sajian Aneka Rasa" dinner buffet at TEMPTations will bring your tastebuds to a spice-filled journey with this year's main highlights. With Executive Chef Supi Mansor leading the kitchen team, let's discover the variety of dishes they have to offer!
---
The Starters
First and foremost, it's not Ramadhan without dates. Similarly, it's not Malay cuisine without raw vegetables, better known as ulam-ulaman. Break your fast with a selection of fine dates and soon after, the appetizers. They include kerabu mangga muda, tauhu sumbat, acar buah, and of course, ulam. Don't miss out the chef's signature sup tulang rawan. What other ways to warm up your tummy with a bowl of piping hot soup after a long day of fasting?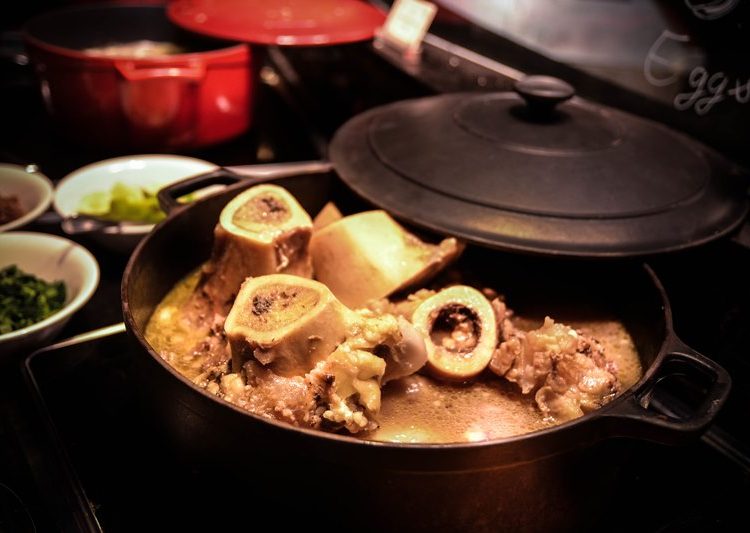 ---
The Mains
Dive into their delectable variety of main courses that are sure to send your tastebuds into culinary heaven! They consist of ayam percik, rendang daging, sambal udang petai, fish head curry, bubur lambuk, and curry mutton. In the meantime, you can also opt for noodle soup from their designated noodle section. A variety of soups with noodles and other ingredients served in a light broth are available to satisfy your hunger.
If you think the options are limited or mediocre, the next section may elevate your excitement and expectations.
---
The Live Kitchen
If you wish to witness the talent behind your food preparations, look no further than the live kitchen. Here, the team proves that they do not forget the essentials by including lemang bakar and ketupat. Lemang bakar is one of the most iconic traditional Malay dishes which contains glutionous rice, coconut milk, and salt. The slow cooking method is sure to test your skills and patience. Pak Udin, the mastermind behind the lemang dish, has been preparing the dish since 1995 in Seremban where his first business started.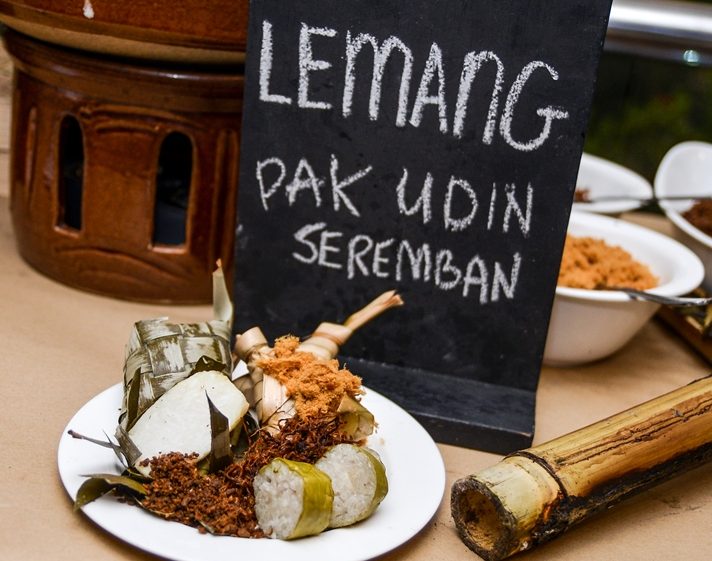 That's not all. In the live kitchen, you can expect more like roti jala, murtabak ayam/daging, and arguably the most eye-catching dish, kambing bakar , also known as grilled lamb. The lamb, which comes whole, is carefully and perfectly grilled to perfection with tender and juicy meat. Not only you get to see what goes on behind the scenes, but the chefs themselves can proudly showcase their talents!
---
The Sweet Endings
For the ladies, especially, there's always room for dessert after a meal. If you're full after the mains, that doesn't mean you have to call it a day. Maybe browse through your device or talk to your friends while paving the way for the sweet treats? Conclude your dining experience with a selection of traditional Malay desserts lusciously displayed at the dessert counter. The desserts feature kuih ketayap, kuih seri muka, bubur kacang hijau with durian, Sarawak layer cake and more. Aside from these, an assorted array of ice creams, chocolate mousse and nougat tarts are also available to satisfy your sweet tooth.
---
The Price And Additional Details
"Sajian Aneka Rasa" will be available from 5th of May 2019 till 3rd of June 2019, throughout Ramadhan. The nett price per adult is RM138, with RM69 nett per child. 3 specially crafted menu are available for groups seeking for an intimate space for the dining experience. The special menu consists of  ayam masak padang, daging rendang tok, sambal sotong petai and other local favorites. With a minimum of 30 persons per booking, it will be RM135 nett per person with a complimetary decoration. Floral arrangements on all tables, as well as standard PA systems are also inclusive in the package. For dining reservations, , call +603 2771 6692 or email rhi.kulrn.fb@renaissancehotels.com. For more information, log on to Renaissance Kuala Lumpur Hotel's website or follow them on Instagram, renaissancekualalumpur.
It is always inspirational to see the chefs' efforts in evoking the authenticity of traditional Malay cuisines. It can perhaps bring back the fondest childhood memories when it comes to traditional food. Are you eager to try out the buffet in this holy month? Let us know in the comments below!